There are a lot of discussions around WordPress editors, and which is better to use: classic WordPress editor or Gutenberg. The same is true about Gutenberg optimized content.

Classic editor has the usual design and functionality that hasn't been particularly changed over the years.
Gutenberg is the latest editor for WordPress with modern design and blocks structure.
Both of them are simple in use. So to choose which one to use is left up to you. In this article, we will talk about the pros and cons of using the Gutenberg blog editor.
Gutenberg download
Once you've installed or updated WordPress CMS to v. 5.0 or higher version, you get Gutenberg as your default editor.

However, you will be able to access only the most basic options of Gutenberg and to use its more advanced functionality you'd need to install Gutenberg plugin atop of the basic WordPress installation.
You can easily download the Gutenberg by going to the "Plugins" – "Add New" and entering "Gutenberg" into the keyword field. Then find Gutenberg plugin and click on "Install Now" and "Activate". Now you can edit your posts with Gutenberg editor.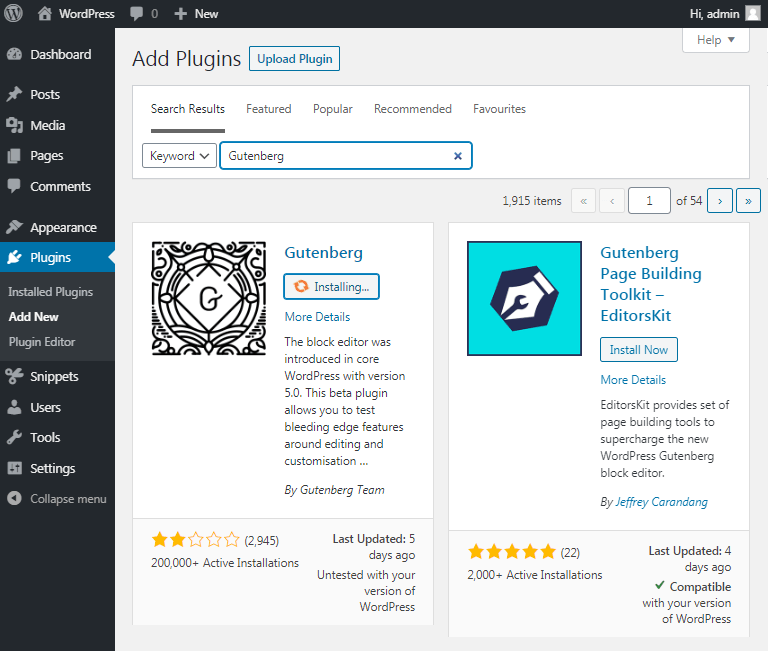 To see how to create posts into the Gutenberg you can read our tutorial "Make a post with Gutenberg editor".
Advantages of using Gutenberg
Clean interface. It is very easy to build your pages with blocks, even for beginners. Forget about the codes, simply add the blocks instead. You can style the page and simultaneously see how it will look when you publish it. With Gutenberg, you also get more writing space and new modern Gutenberg font.

No excess settings. Gutenberg editor has a full-screen size editing field where you can hide all unnecessary features to view your content as it is.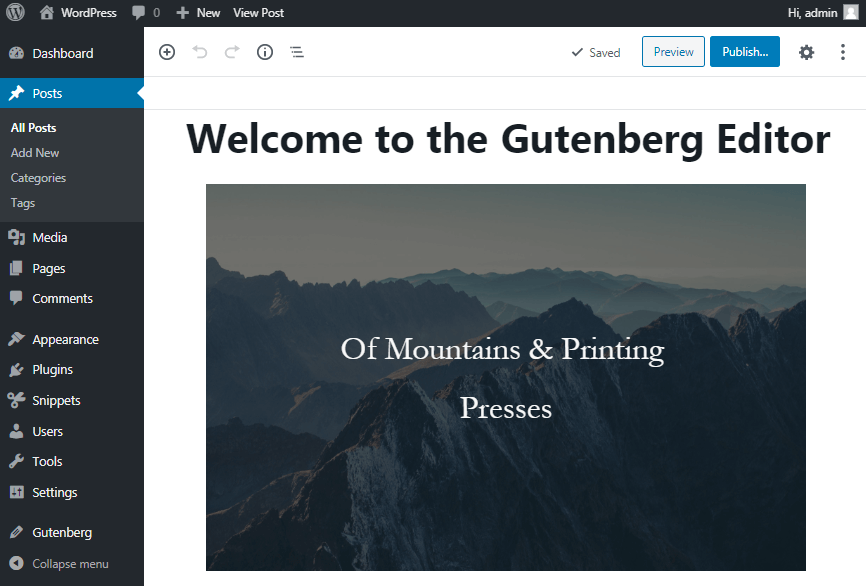 More multimedia elements. There are a lot of multimedia widgets in Gutenberg. For example, this latest editor allows to insert codes with the help of shortcode block.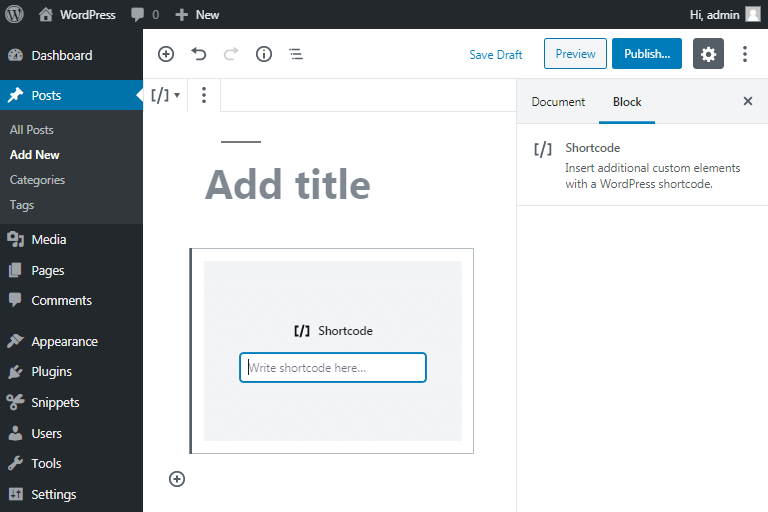 Easy embed. You can easily embed the content from lots of popular platforms in a few clicks. You should only choose the necessary site and put a link to the content you want to paste into your blog.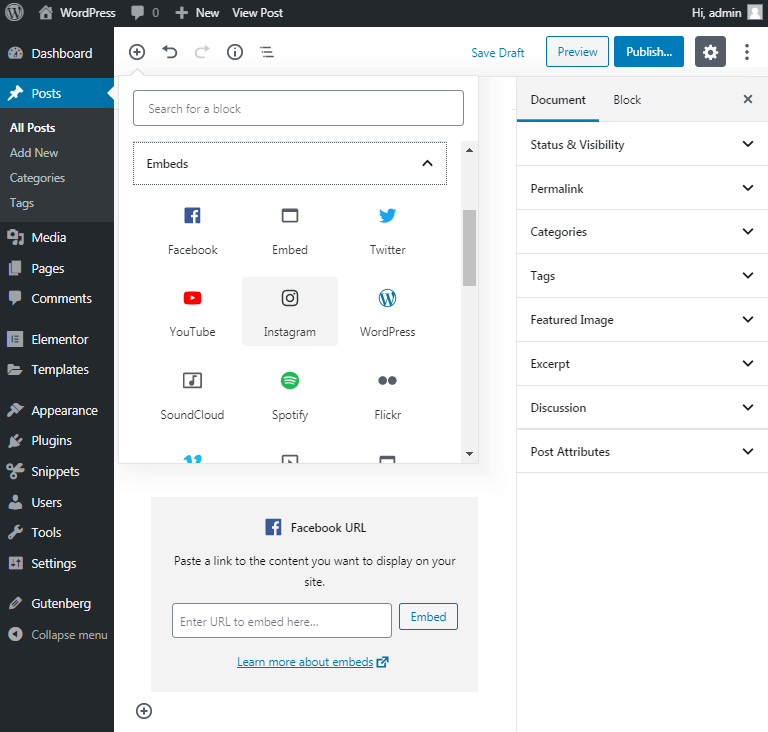 Buttons. The simple button is available to use. You can add it to your blog posts and encourage your users to actions. Compare this feature to the default editor that allows adding buttons only in a form of plain html code, which is not suitable for people who are far from being coders.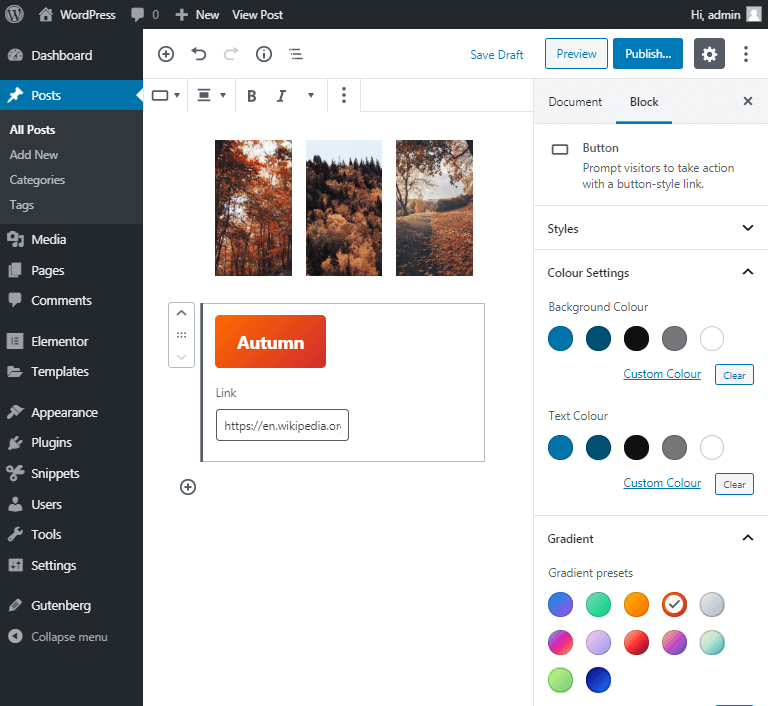 Content structure. See how many words, headings, paragraphs and blocks do you have on your page.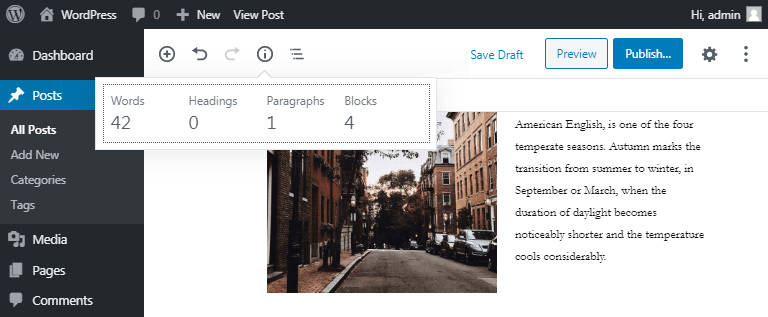 Visual/HTML editing. Easily switch the type of editing. If you like to edit the blocks with html code, choose "edit as html", and vice versa.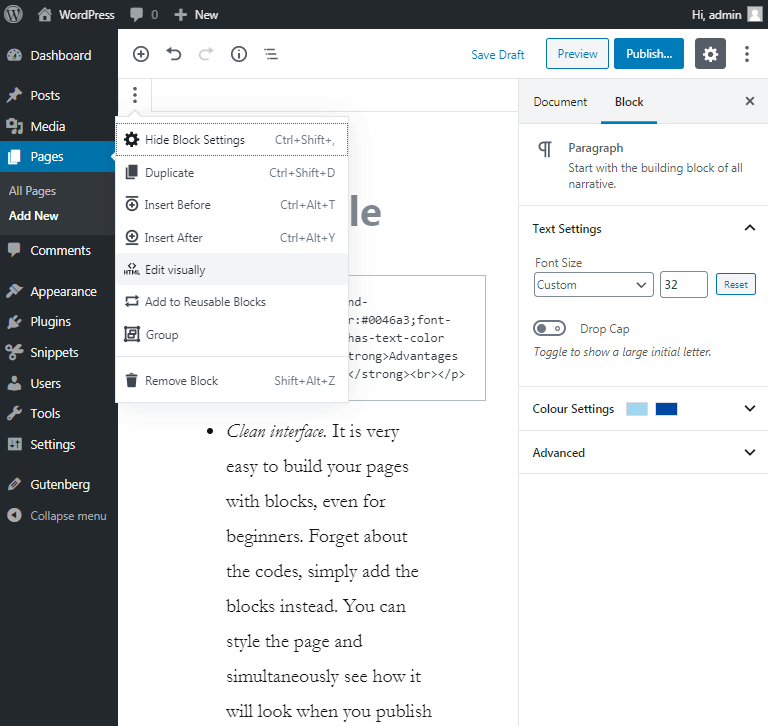 Gutenberg image layouts. More varieties to put images to your page. Add a single image, image gallery, or combine image and text in one block or using columns.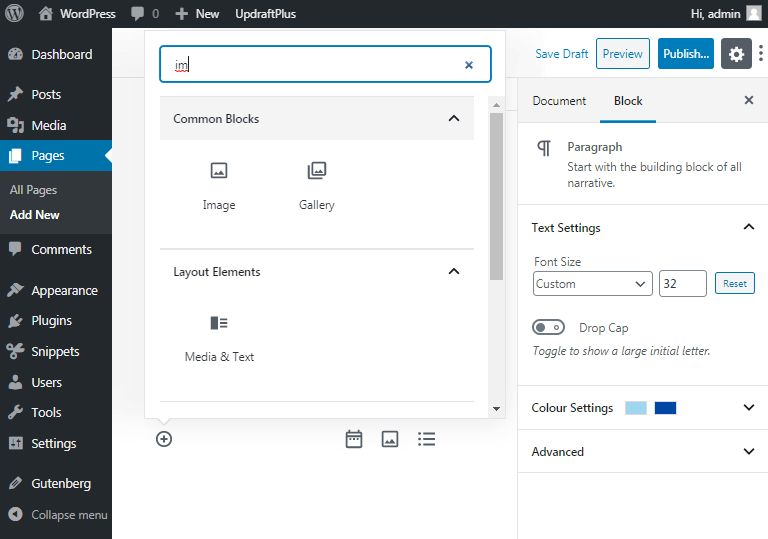 Create your own block. You can add your own custom HTML blocks and immediately preview them.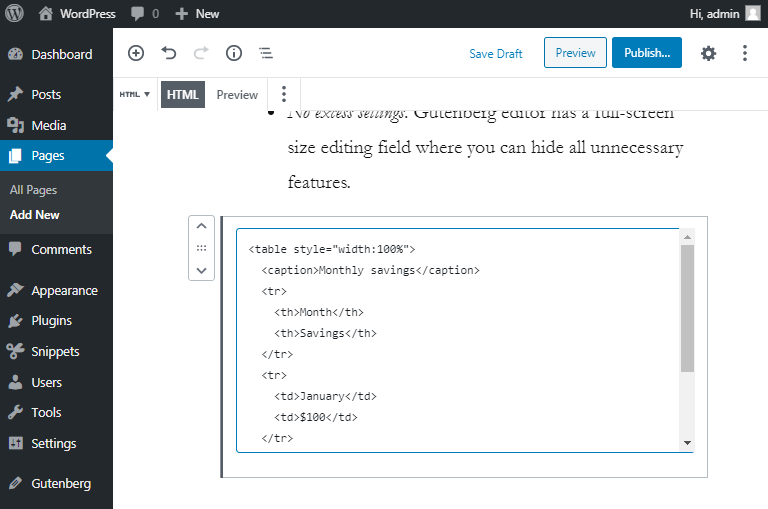 Gutenberg disadvantages
It's the matter of being familiar with the interface. You won't find it easy to grow accustomed to the new interface. The features you just knew where to look for in the classic editor sometimes are hidden in Gutenberg. Yet they are still here and it's just a matter of getting familiar with the new interface.
Includes a lot of functions that are unnecessary to you if you use editor only to write simple blog posts. However, you can disable the unnecessary blocks that confuse you with ease in Gutenberg. So this disadvantage is not really a disadvantage at all if you know how to approach it.
Some themes and plugins hardly work with Gutenberg. This is true for the old themes that rarely get updates. Well, we hope you won't use such themes ever. The lack of compatibility and updates only speaks of the carelessness of the theme developer.
Gutenberg VS Classic editor
---
| Gutenberg editor | Classic editor |
| --- | --- |
| Modern minimalistic design | Familiar design |
| More tools for visual editing | Suitable for writing short and simple posts |
| Shows the content structure | Always compatible with your theme regardless of its origins and updates history |
| Allows to edit in HTML and simultaneously preview the results | Familiar to everyone who knows WordPress CMS |
| Makes it easy to split content into columns and make nested blocks | |
| Allows to use anchor links and create links for the specific blocks | |
| Has a growing number of addons to extend its functionality | |
| Is compatible with the most popular WordPress themes and plugins | |
| Allows to play around with content and build it beyond the limits of an ordinary post | |
| Receives frequent updates with ensured backward compatibility, so you won't lose any content ever | |
| Allows turning the older publications made with classic editor into blocks and update them on the fly | |
| Lets you disable the blocks you just don't need | |
| Has a full-screen mode to view your content as it will look on frontend | |
---
The decision which editor to choose depends on your aims. If you need to create multimedia-rich content with lots of widgets, or you are a developer, Gutenberg will become an excellent assistant to you. If you write simple blog posts with a lot of text inside, the classic editor is enough to create excellent articles.