The Bootstrap 5 premium templates present dozens of awesome possibilities to develop a website that meets your goals. These solutions include everything a modern website needs to be successful online. Creating an attractive website can be beneficial to your business. Even if you work as a freelancer, a well-designed site can help you present yourself online properly. Still, a professional approach is highly recommended when developing a personal or corporate website. Even with a wide choice of new technologies and trends, building such a site may seem tricky especially if you lack certain experience.
However, you don't have to hire a developer to have a website your clients will love. That's exactly where premium HTML5 website templates can be useful. And in today's post, we will explore not only the role of such solutions but also list the best ones that will undoubtedly fit your site. All of the templates that we are going to talk about were developed by Zemez. And as our team always strives for top-notch results and meeting customers' needs, your web design needs will be undoubtedly met.
We also recommend reading our recent articles from the Zemez Blog. Our team of authors regularly posts new articles with a great range of topics. From template reviews to tips and tricks for each platform, you'll easily find something useful for your website. All the articles & guides we publish are written in plain English and without any complex terms. Whether you're interested in eCommerce, HTML, or modern CMS like WordPress, you'll surely find what to read on the Zemez website.
The Advantages of Using Bootstrap 5 for Your Website
Before we explore the Bootstrap 5 premium templates, let's learn more about Bootstrap itself. It is one of the most popular front-end & open source frameworks. Bootstrap is perfect for building a responsive & reliable site. Moreover, it allows you to fully customize any website and make it mobile-friendly. In May 2021, this web development tool was updated to its fifth version. Now it offers even more control over your website as well as various updates and improvements. If you're interested in learning more about all its major updates and benefits for your website, feel free to read one of our latest blog posts. It describes all newly introduced and updated features of Bootstrap 5, such as:
Responsive fonts;
Full RTL support;
Removal of jQuery;
New accordions, forms, and other components.
Today Bootstrap 5 is one of the most necessary tools for a web developer. Even if you don't work with HTML, working with Bootstrap 5 can be highly beneficial for your project. And if you are not a developer, learning Bootstrap can help you customize every element and feature of your website. Due to its easy-to-understand documentation, you'll be able to integrate Bootstrap into any website. As many businesses tend to advertise their businesses using responsive websites, this framework can positively transform your site. It will help you easily promote yourself and your products & services to a variety of customers all over the world.
Why People Choose Bootstrap 5 HTML Website Templates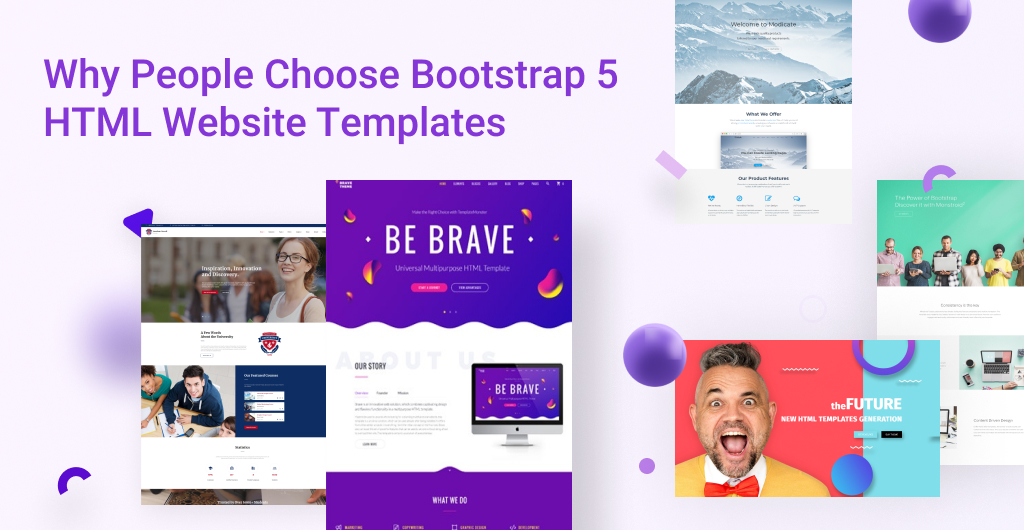 Modern Bootstrap 5 premium templates are designed to make the process of web development a lot easier. They allow you to build a website without having to hire a web design professional. No wonder that such solutions are highly popular these days. Once purchased and unpacked, such solutions give you access to a ready-made website. You can fill any template with your content and information of any kind. Feel free to check the research paper writing service. Moreover, it is possible to change the template's design according to your preference. Thus, you'll be able to create something truly unique and original without spending a fortune on your website.
Aside from the abovementioned advantages, there are dozens of others that you'll surely appreciate. First of all, such solutions are reasonably priced. What's even more important, they allow you to save time and not just money. With thousands of already coded and designed templates available online, you'll surely find something for your future site. Premium templates like those produced by Zemez are also SEO-ready. This allows you to easily promote the products and services of your business through popular search engines. Unlike free solutions, premium Bootstrap 5 website templates provide extensive support and well-written documentation. At Zemez, for example, highly qualified support agents are always ready to help you solve any issue you may have with HTML5 templates.
Top Bootstrap 5 Premium Website Templates by Zemez
The team of Zemez regularly works on dozens of new web design solutions for a wide variety of platforms. As for our Bootstrap 5 premium website templates, we strive for making them fully reliable and flexible. Just like our WordPress and eCommerce solutions, you can expect our HTML5 templates to be easy to use and highly customizable. Besides, our web design products adhere to the latest web design trends and standards. Below we have gathered the top 5 website templates recently developed by our team. With them, you can easily build a website that meets your business goals in no time.
Monstroid2 – Multipurpose Premium HTML5 Website Template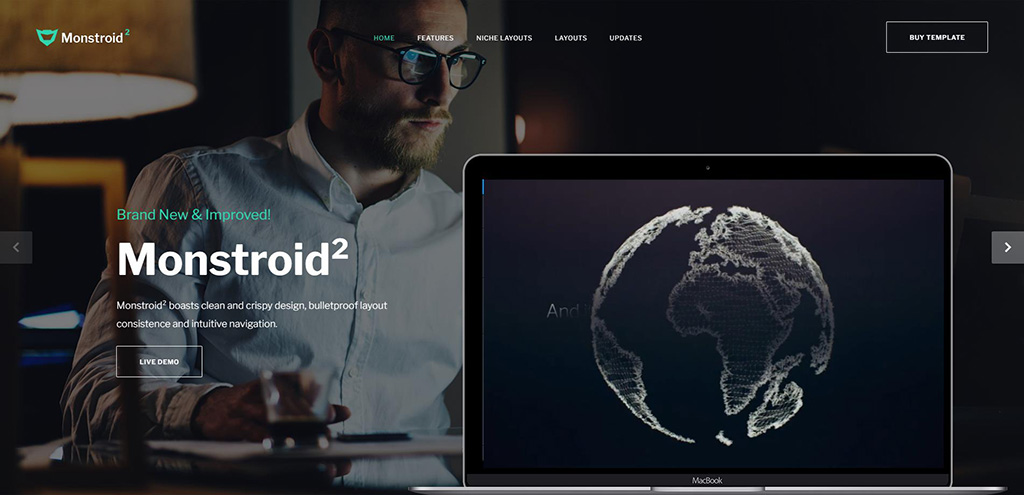 Have you ever wanted to build a website that can be completely customizable without you having to code everything by yourself? Our multipurpose premium HTML5 website template allows you to do just that. Monstroid2 is one of our most popular solutions for all kinds of websites. With its HTML version, you get a lot more than any average website template can offer. It comes with a wide choice of pre-designed pages and integrated features. They allow you to create virtually anything for your site. Moreover, Monstroid2 offers dozens of ready-made child themes that cover various topics, such as:
Needless to say that such a template follows all the modern web design & development trends. With its smooth design and numerous features, the Monstroid2 multipurpose premium HTML5 website template gives you everything you may need. From Google Fonts to well-designed forms, there's a lot you can do with this template. And to help you even more we added an extensive UI kit with an abundance of elements. Diverse progress bars, buttons, accordions, counters, and other elements can be easily integrated into any page to make your website more informative and impressive.
Brave Theme – Multipurpose HTML Website Template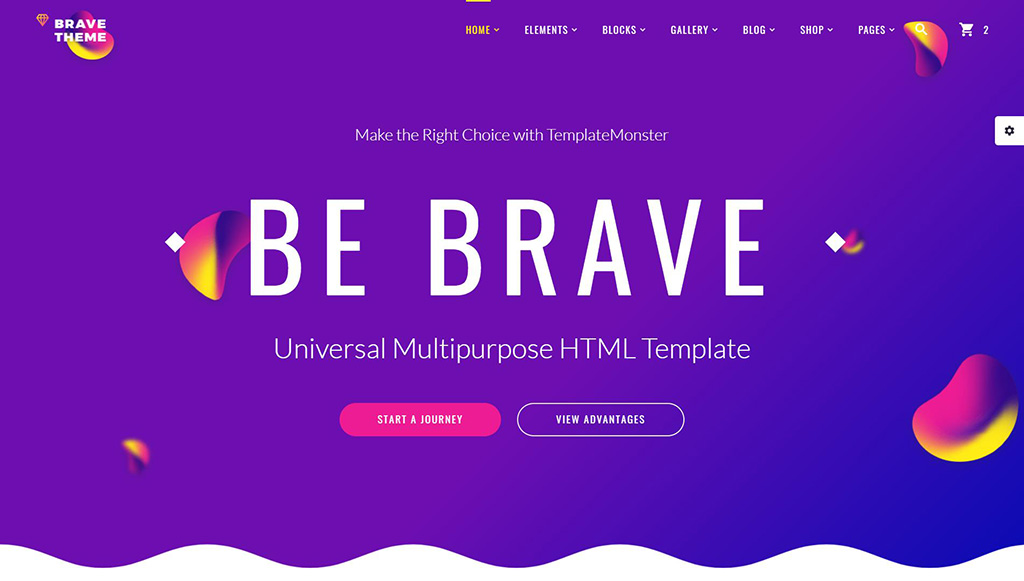 Another notable HTML solution by Zemez is the Brave multipurpose HTML website template. It contains over 100 ready-made HTML5 pages and a variety of UI elements. Besides, the template comes with a wide range of pre-designed niche landing pages. Whatever your website's topic is, you can easily apply this template to your website. From IT company to museum, this HTML5 template will perfectly fit any modern website. Besides, it includes a range of features to make your site more flexible. With Brave, you can surely create a website that your clients will love.
When it comes to customization, the Brave HTML template provides all the necessary tools. Besides the abovementioned UI elements kit, the template also features Novi Builder. It's an easy-to-use visual editor suitable for both newbies and pros in web design. The builder has a friendly interface & powerful features. It also includes everything required to help you build a site of any complexity. And with an extensive set of built-in components, your new site will be more informative and attractive to any visitor. You can also freely use the provided color schemes, forms, galleries, sidebars, etc., to add more content to your site.
theFuture – Web Design Agency Multipurpose Website Template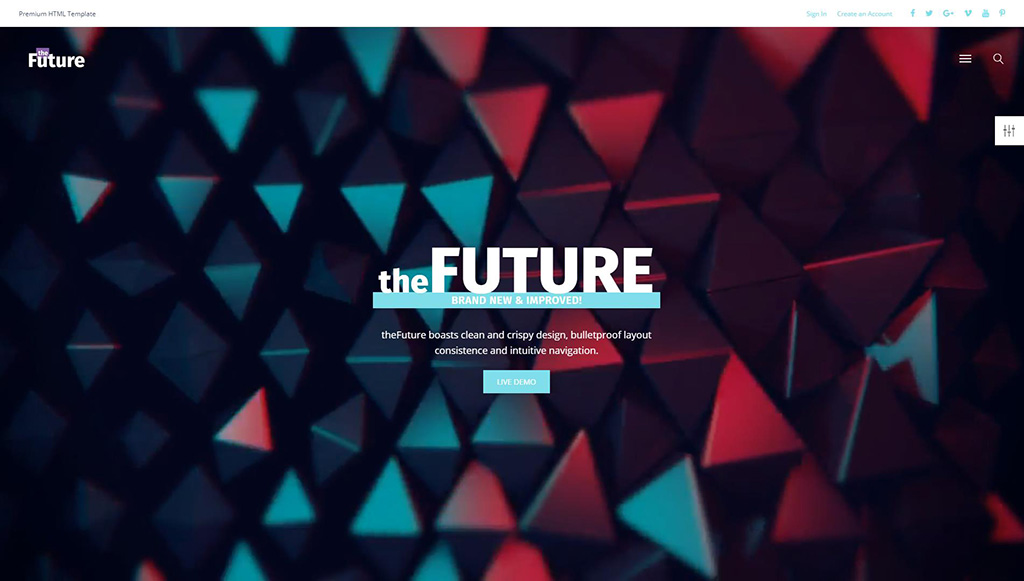 A proper & well-designed website is of great importance to any modern company. Web design agencies are no exception. To meet the needs of such companies, we have developed theFuture. It is one of our responsive Bootstrap 5 premium website templates. Our solution has a creative & smooth design combined with a clean layout. It is perfect for individual web designers as well as well-established studios. TheFuture web design agency multipurpose website template offers a variety of tools for easy website development of any complexity. The included options vary from hundreds of ready-to-use elements to over 60 ready-made layouts. Here's what our template provides for its affordable price:
8+ homepage layouts;
5 slider options;
8 different headers;
3 footers;
4 blog page layouts;
9 post layouts;
8 gallery pages.
Still, there's a lot more to discover in this template. It allows you to create fully interactive pages using contact & search forms. Moreover, you can add a calendar to your website to create powerful appointment & event pages. TheFuture HTML5 template also includes various hover effects for the gallery and video background for your pages. The template is well-documented and easy to use. Needless to say, it's also fully responsive due to the integrated Bootstrap 5 framework. With such a template, you can create a memorable online presence in no time.
Modicate – Web Design Studio Website Template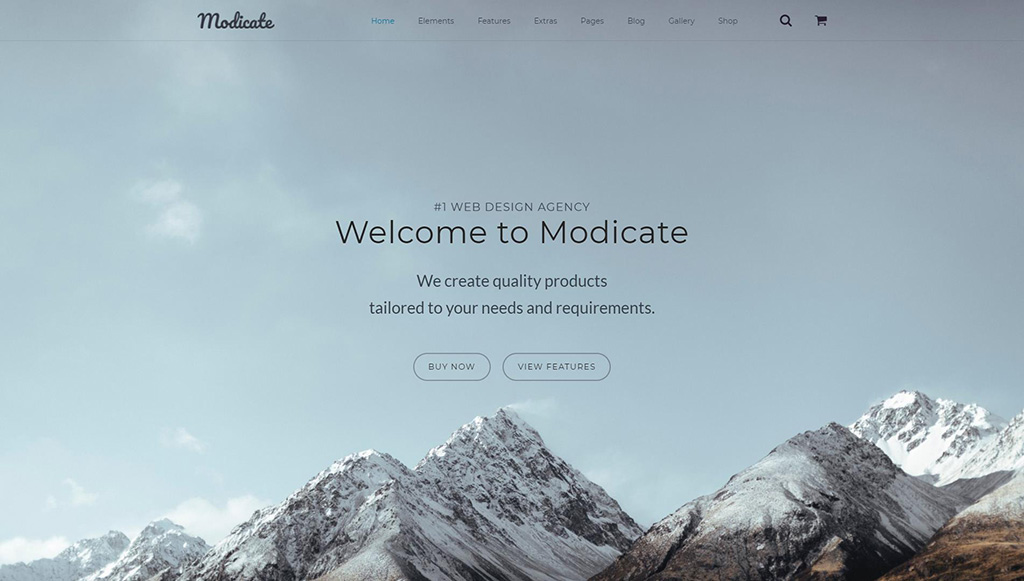 If you are looking for a more detailed solution, we know how to help. The Modicate web design studio website template provides everything for creating a notable website. It can perfectly fit any kind of creative website. One of our most popular Bootstrap 5 premium templates, this solution offers a set of well-designed layouts. Also, it is backed with seamlessly integrated features. They are built to make your website more interactive and informative. Due to the smooth animations, your website will provide a pleasant user experience, too.
Aside from the abovelisted advantages, this web design studio template has a lot more to offer. For example, it comes with ready-made working forms. They can be used for a variety of purposes. From building contact pages to newsletter sections, there's a lot you can do with Modicate. Also, this template provides a variety of layouts and pre-developed pages. With the help of our solution, you can blog about the new web design trends or showcase your recent works. It can be done via the Gallery and Blog pages. The template also offers high responsiveness and cross-browser support. It means that a website built with Modicate will be accessible via any modern device.
Jonathan Carroll – University Responsive HTML5 Website Template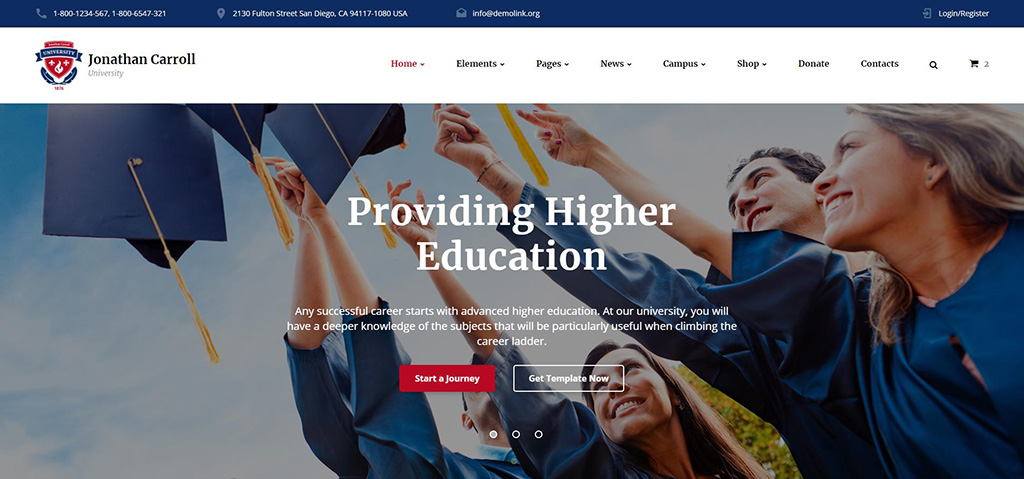 Educational websites are among the most viewable ones these days. And when it comes to creating a noticeable HTML5 website, the Jonathan Carroll university responsive HTML5 website template can help. It is one of our Bootstrap 5 premium templates perfectly suited for the education sphere. Most importantly, this solution provides top-notch performance with a modern & clean design. It is useful for university sites that need to provide lots of information. Besides its design, the Jonathan Carroll HTML5 template also offers a bunch of other advantages:
SCSS & Pug source files;
SEO-friendly & responsive layout;
eCommerce-ready pages;
A variety of ready-made blocks and UI elements.
Like other templates we provide, this one includes pre-designed pages for a variety of purposes. For example, with our solution, you get 5 different blog layouts for posting news regularly. Also, you can show the featured campus photos via 4 gallery layouts. The template we provide also includes 5 header and 2 footer options. Using them can help you improve the navigation on your website. Also, you can make your website more informative by adding an event schedule. It will allow your students to easily find new events on your campus website.
Best Bootstrap 5 Premium Templates: Conclusion
We hope our article provided everything you wanted to know about Bootstrap 5 premium templates. Whether you are planning to build a website or already have one, our solutions can easily help you achieve your goal. At Zemez, we always try to assist our clients in achieving success online. This means not only designing & developing HTML5 templates. We also provide qualified support to every customer. Our experts are always available to help you create a website your company needs.
If you are looking for more solutions and guides by our team, feel free to browse our website. Moreover, we recommend following us on Facebook and Instagram for more news about our new & upcoming website templates. Besides, we regularly publish various tips and template reviews for various platforms in our blog. And if you have questions about our solutions, don't hesitate to contact us directly. We are always happy to help.
On a side note, if you're looking for a great resource for admin templates, check out BootstrapDash. They have a huge collection of free and premium admin dashboards, and various other templates based on Bootstrap 5 and 4.