In this post, we'll explore the uniqueness of Helpaster. So, enjoy features of this free WordPress theme for charity. It's also Elementor based.

We live in a tolerant world, where people are always ready to help each other. Empathy and humanism are one of the main things that will save us from disappearing. A lot of people still cannot afford even to buy bread, that is why the dollar that you donate may save someone's life.
Creating a website based on the best charity theme for WordPress will help you to promote charity and donations among people all over the world.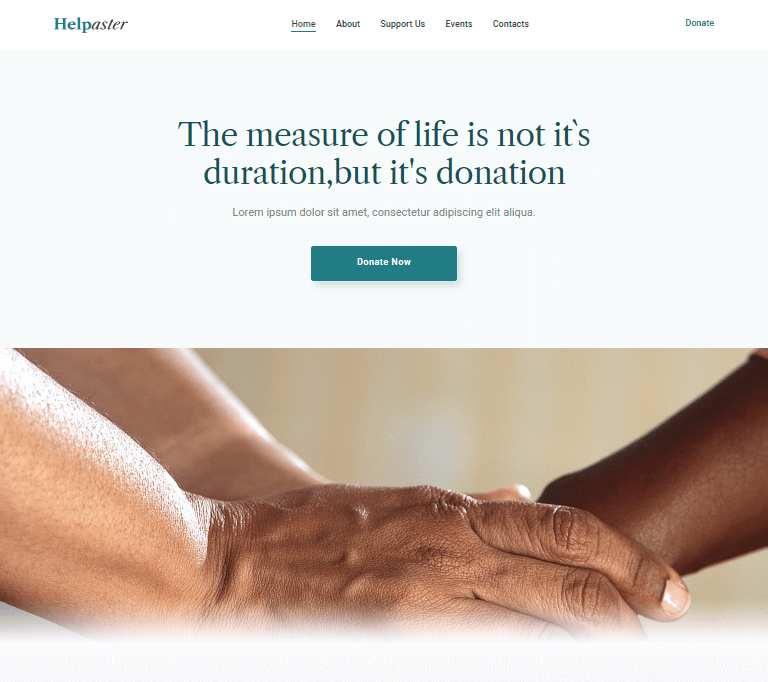 Helpaster is the best free WordPress theme for charity developed with a contemporary design that includes many useful options and widgets. It was created with the help of Elementor drag-n-drop builder. So there is a bunch of flexible elements you can use to modify, create and add your content without code. With a huge number of add-ons that come with the Helpaster theme, you get an ability to quickly customize it at your discretion and don't waste time building the site from scratch. Let's check the main advantages of this best charity theme WordPress.
Elementor-ready
Thanks to Elementor builder, you can change, replace and stylize any of its widgets in a few clicks. In the Helpaster theme, you can find such widgets as call-to-action buttons to let users quickly cross the pages and donate in one click. The image carousel with partners' logos showcases which organizations and businesses support you. Counters show how much money you have raised yet.

Our best free WordPress theme for charity comes with several pre-made pages such as the Home page, About page, Support us, Events, Contacts, etc. All of them were created with Elementor, so you can edit them using this simple builder.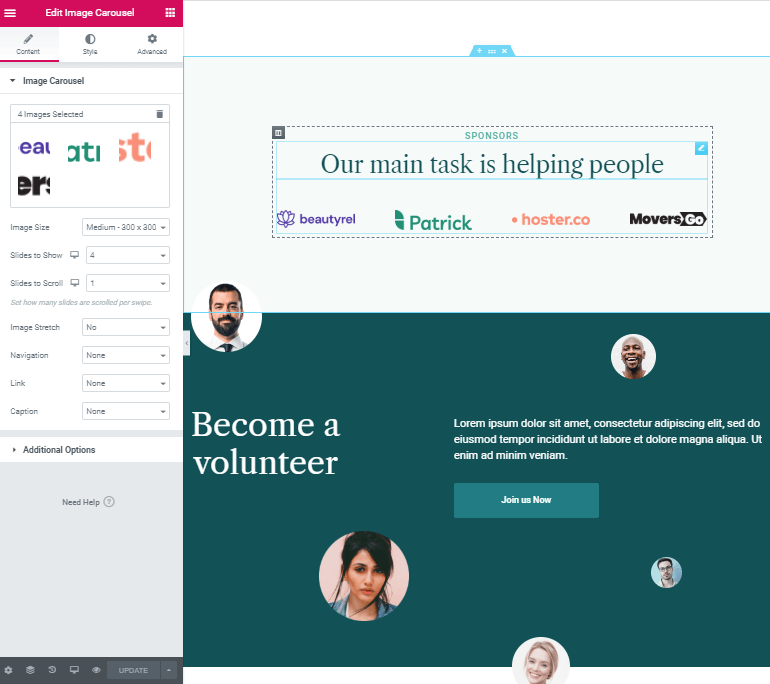 Perfectly customizable
You can stylize the Helpaster not only using Elementor but also using the WordPress Customizer. Here you can change the header & footer, favicon, background image, typography, menu, homepage and more. Also, you have and ability to use Additional CSS and customize the theme using code. All of these settings will apply to Elementor elements if you will add custom classes and IDs to them.
Open the Color Scheme section to change theme colors. Change the logo in the Site Identity. General Site Settings allow you to tune the ToTop button. You can choose the paddings and colors. In the end, preview how this best free WordPress theme for charity will look on different devices.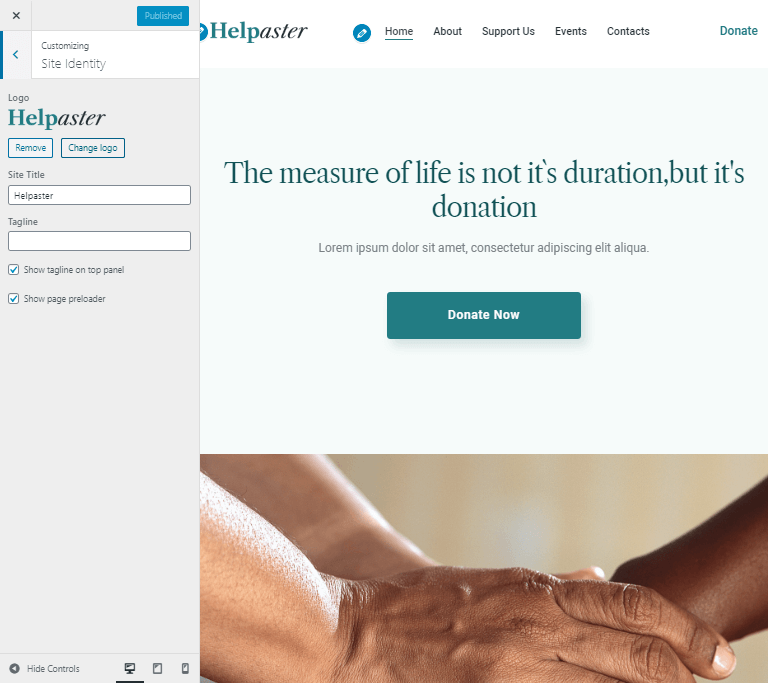 Give – Donation Plugin
People can help in a few clicks using the "Donate now" button and the advantage that Give – Donation plugin provides you. It simplifies the charity process and allows people to save their time missing a lot of excess actions. They should only fill the donation form: choose the amount, payment method, enter personal info, and click on "Donate now". Nothing can be more comfortable than this.
In the Dashboard, you can open the "Donations" section and edit your donation form as you wish. Here you will find a lot of options. Change the text into the "Continue" button, enter the amount, decide whether you need registration before donation or not, and customize many other possibilities.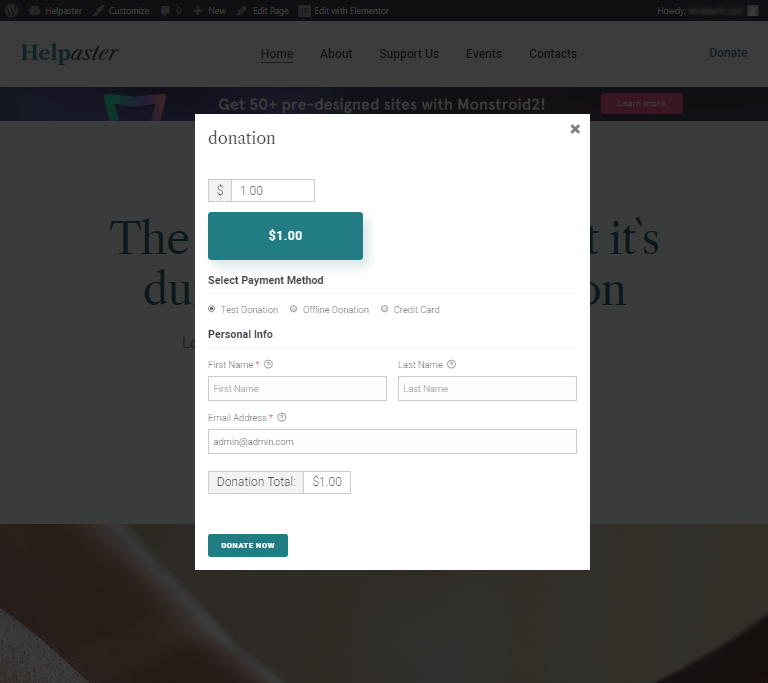 30+ ready-to-use blog layouts
As you know blog is a good way to promote your project. Having a blog on your website will help you in search engine optimization. Despite this, if you write interesting and informative articles, you can also attract more visitors to your site. That is why it is so necessary to devote enough time to this step.
To make your blog look better, our team has prepared for you more than 30 blog layouts. You can find them in the Customizer in the Blog Settings tab. Decide which structure will be better to showcase your blog posts, choose their style, sidebar position, sticky label type and more. These settings will help you to build an ideal page.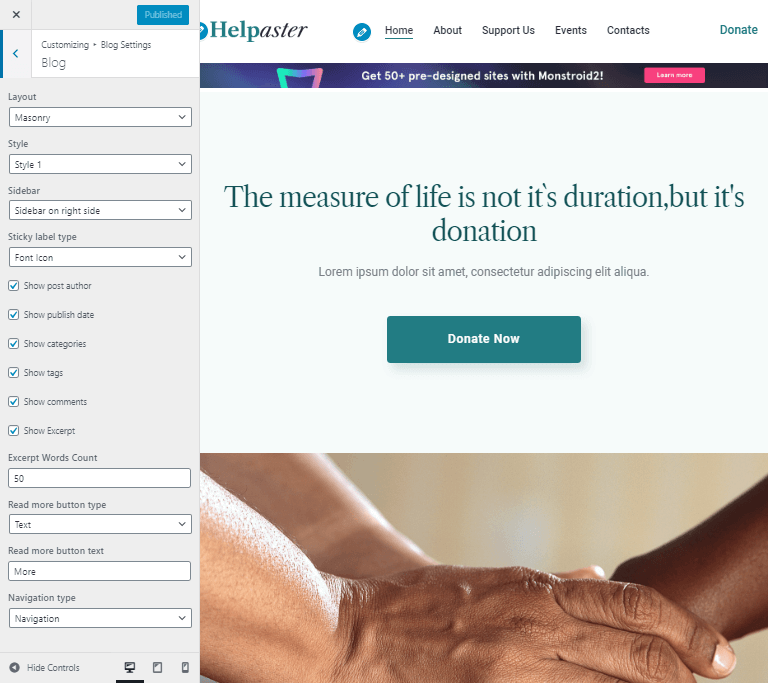 All of these for FREE
Nothing can be better than getting all of these benefits for free. A fully equipped theme with demo icons and images, plugins, layouts – is absolutely accessible to everyone. Helpaster is really the best free WordPress theme for charity. Furthermore, downloading this template you will get an ability to ask our support team if you faced problems or difficulties when working with it. So don't be shy to contact them at any time.