Check this list of the best WooCommerce Google Product Feed Plugins to generate google shopping feed prepared by LearnWoo team.

Owning a retail store is a huge responsibility. A lot of businesses prefer to do online retail rather than creating a physical store and maintaining an inventory. If you go online, you have plenty of competitors who are into the same marketing strategies, to be visible, you need to be highly specialized. Yet another way of gaining visibility is to get the edge of popularity using online platforms with targeted marketing.
Anyone who is into online shopping searches the items in Google to get the information. Most of them trust the brand that appears on the first page of Google. To create your brand awareness, it is important to get your products on Google. Google Shopping is one such platform set by Google for Retailers which simplifies the struggle for online visibility of your brand.
How to optimize your products for Google Shopping feed?
Competition is high when you consider online retailing. To help your products stand out in the crowd, you need to specifically polish the product details in the right manner. Here are a few of them.
Make the product title informative.
Offer special offers that grab attention like for example "free delivery", "buy one get one free" etc.
Online Product reviews are quite informative. Ensure that your product reviews sound genuine.
A better and clear picture is also an important factor to let the customer understand the product well enough before purchase.
Provide a better view, mostly the diagonal and horizontal view of the product to give a better picture.
Google Shopping And Google Merchant Center
Google Shopping helps you get past your competitors to reach maximum brand popularity. To get your products on Google Shopping, Google needs a list of all the products in an updated manner from your store. These lists can be an XML or TXT based files that are uploaded into the Google Merchant Center. Google Merchant Center provides a space for every retailer who wants to get their products on Google Shopping. Any retailer can create an account on Google Merchant Center to create a Google product feed. The Google Merchant Center provide varied options to input the google Product feed- Manually and in an automated manner.

Manual – The Google Merchant Center provides a template in the Google Sheet, which is obtainable from the Google Merchant Center. Here you need to enter all the product details manually with every single detail. The sheet can then be uploaded into the Google Merchant Center.
Automatic – If you own a store in any popular eCommerce platforms like WooCommerce etc, then you can also make use of Google Product Feed plugins l to generate Google Product Feed accurately.
Even though Google Merchant Center provides retailers the opportunity to showcase their products, there are strict guidelines to be followed to ensure that you do not break the rules listed by Google. All the guidelines listed by Google Merchant Center when followed correctly, get your products distinctiveness and better visibility.
The ELEX WooCommerce Google Shopping Feed Plugin is one of the best plugins with a uniquely simple and fine interface to work with. The plugin has easy navigation and clear data output which makes it easier to work with. It also contains extensive Google Taxonomy mapping, which encompasses all the basic product listings. Here are some of the popular features to look into:
Generates error-free google product feeds in XML format.
Timely updates and refresh schedules possible.
Easy to create multiple feeds.
Editing and deleting feeds are easier.
Supports variations of products to upload in the feed.
Low cost.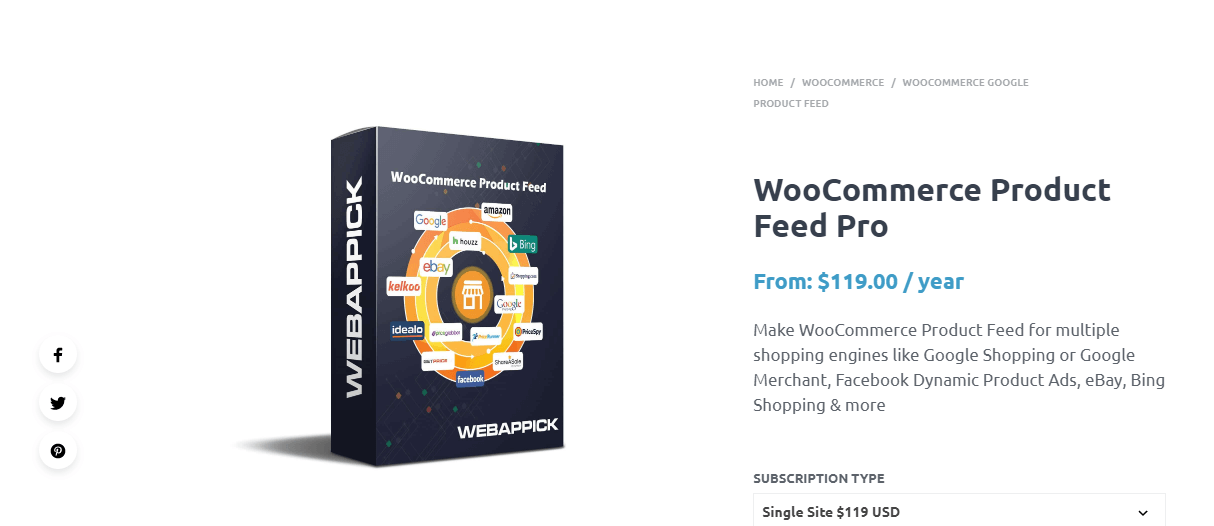 The WooCommerce Product Feed Pro plugin helps to create feeds for multiple channels like Facebook Dynamic Product Ads, Bing Shopping, Google Shopping, eBay, etc. via FTP or HTTP. The plugin creates feeds using smart filters(price, category, type, etc) and efficient category mapping is possible. Here are some major features to look into:
Dynamic addition of product attributes.
You can feed in Custom Taxonomy.
The feed processing is done as batches that are compatible with any server hosting your site.
You can also use wp-options and metadata in your feed.
It can also support multiple languages.
Allows extended attributes to add to the product title.
Also supports various multi-vendor plugins.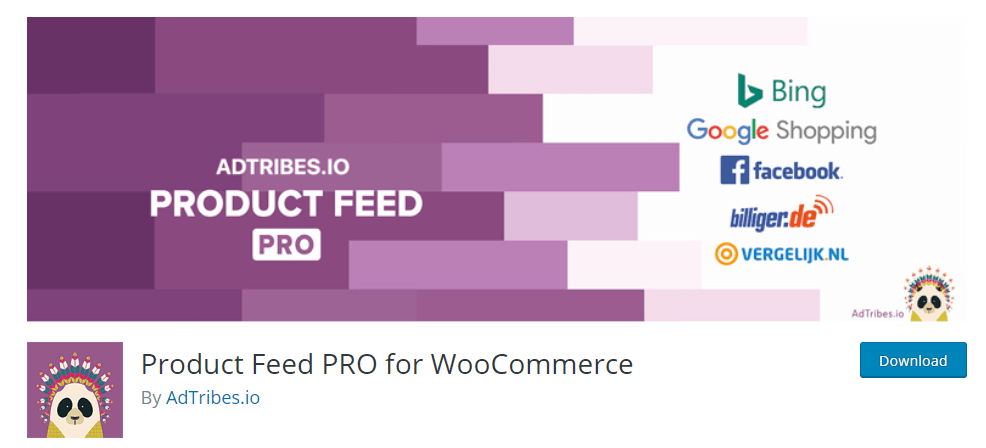 The plugin supports creating feeds for various channels like Facebook, Bing, etc. The product feed generated is accurate. Moreover, there is no limit in creating the product feeds as well as adding the products to the feed. Here are some important features to look for:
Has advanced filtering features for each marketing channel.
Filtering helps to avoid low margin or even low-stock products.
You can add custom, dynamic and product attributes to the feed
Easy category mapping for every channel.
Advanced support for shipping classes and Google Shopping.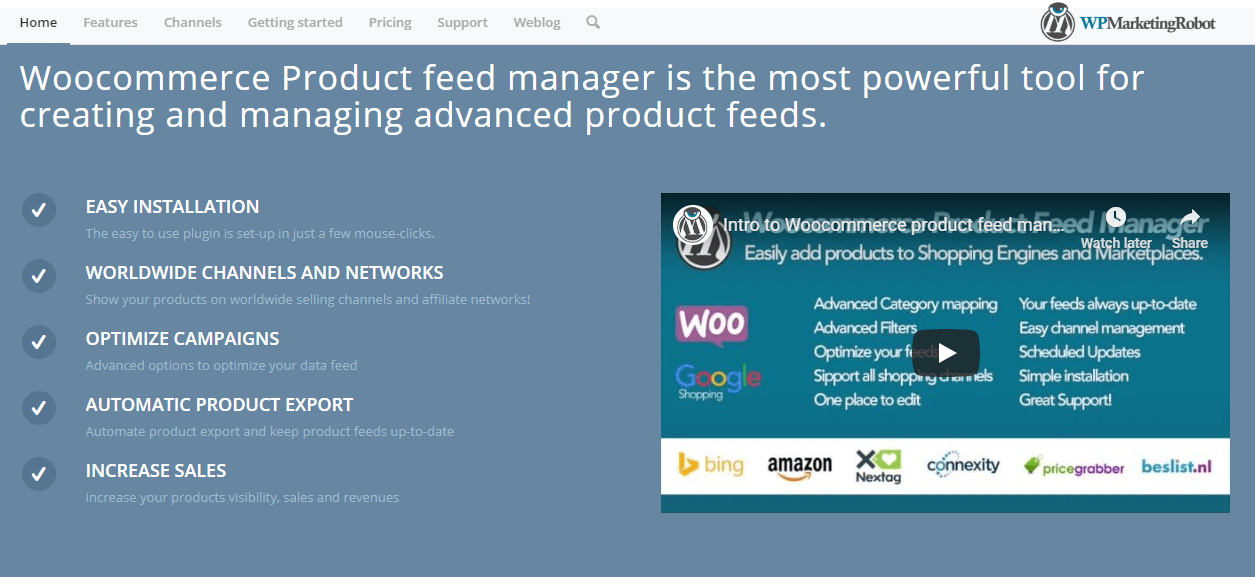 The WooCommerce Product Feed Manager is quick and easy to install and use. Also, the feeds generated will help to even compare the products on any comparison sites. Advanced filtering options helps to avoid unwanted products from the product feed list. Major features that make the product popular are:
Quick and Easy installation.
Supports a wide range of channels and networks.
It helps to create optimized campaigns.
Automatic updating of products to keep them up-to-date.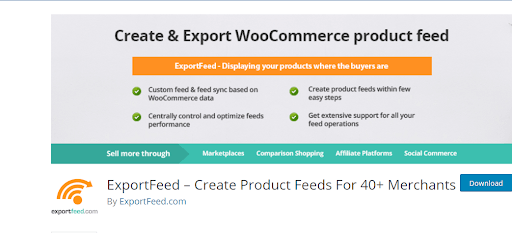 Create and export product feed using this free plugin. It supports more than 40 channels including, Amazon. Bing Google etc. It also allows scheduled updates and refreshes schedules to keep the products up-to-date. The feeds are optimized and built-to-suit the channels.
Here are some important features
Supports multiple channels.
It helps to map even local products to Google Merchant categories.
Optimized products in the feeds.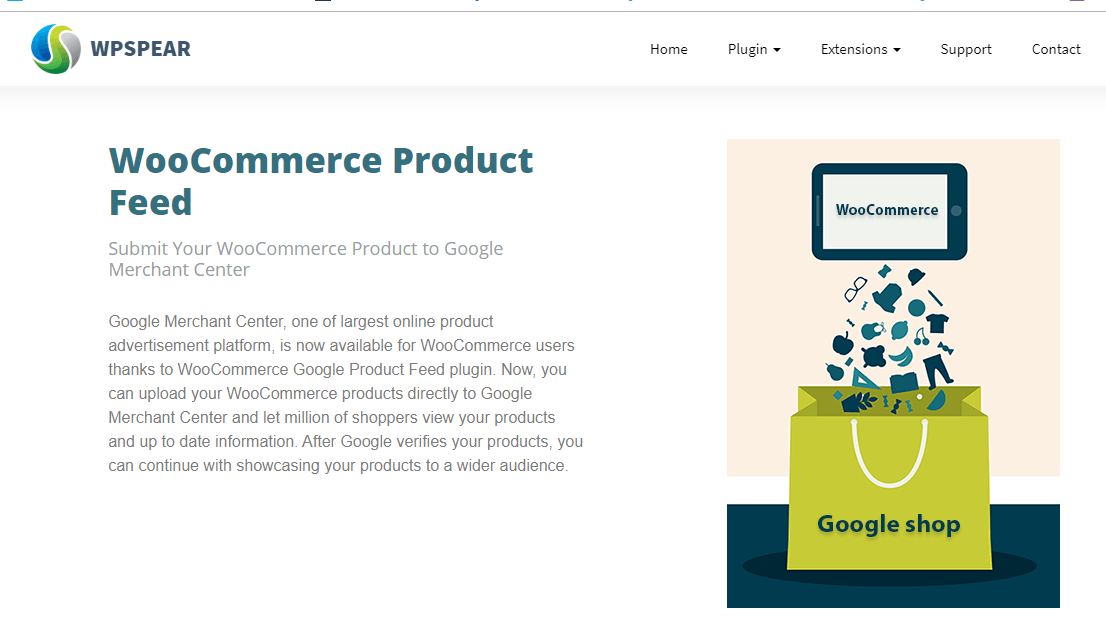 Get your products the visibility you want using this plugin. The plugin is great with multiple products submission And also you can upload all the product feed in just a click. Also, it supports multi-site and product variations. Popular features are :
One-by-one product submission is possible.
The free version allows multiple product feed submission to Google Merchant Center.
The Pro version supports multi-site and even product variation.
Conclusion
Generating a Google Product feed is a pathway to your brand popularity in Google, which is the most popular search engine and product comparison site available. Making use of the Google Merchant centre, grow your brand awareness and increase your sales for your online retail store. The above plugins make the path to brand popularity quite easy. Generating error-free google product feeds is important to bring out optimized results on Google Shopping.