Monstroid2 WordPress Theme Best Premium Template from Zemez
The Monstroid2 WordPress theme is one of the most successful multipurpose solutions developed by Zemez. It combines impressive modern design with cutting-edge functionality. This theme will give your site what it needs regardless of your web development goals. From a variety of design options to awesome plugins, layouts, and content diversity, Monstroid2 is unique yet affordable. Moreover, it is easy to work with and can be simply customized. Every website owner may find something suitable for them in this theme.

In our blog, we have written about Monstroid2 multiple times. However, in today's post, we want to discuss what makes it one of the most fitting themes for any WordPress site. We'll show how our clients use it to develop their amazing online projects and turn them into captivating sites. We'll also talk about what makes these websites stand out and help their owners promote various services. Besides, we are going to describe what each of these sites provides. But first, let's take a closer look at the Monstroid2 theme and find out why our clients choose it.
Why People Choose the Monstroid2 WordPress Theme
As we mentioned above, the Monstroid2 WordPress theme is a unique and multipurpose solution for anyone willing to build their website. Regardless of your experience in web development, using this theme is simple and rewarding. Offering wide customization and varied features, this solution is a must for any WordPress-powered site. With over 15 pre-designed homepage layouts, it provides any business and organization with a wide range of tools for building a quality website.
Due to an easy and quick installation, you can begin to use this theme in a few minutes after downloading it. For bloggers, Monstroid2 has also something in store. For example, it offers up to 50 variations of different blog page layouts. Each of them is fully customizable to help you properly present your content. Individual posts can also have diverse designs and typography, depending on what you want to publish. The theme also comes with over 6 portfolio layouts and 4 project designs. They can be used to showcase any of your company's services and bright moments. Finally, Monstroid2 provides eCommerce-ready pages. With 4 varied layouts of product pages, you can easily & quickly set up your online store.
Top Websites Built With Monstroid2 WordPress Theme
Being easy to use and affordable, the Monstroid2 WordPress theme is widely used to create modern & spectacular websites. The theme itself has a powerful potential to build 100% original online projects. Many startups, freelancers, and companies worldwide have used this solution to craft impressive sites. It helps many businesses to properly present their services and products on the Web. We have picked several examples to show you how different business owners use Monstroid2 to benefit their companies. Their sites are based on the following topics:

Green energy;
Web development;
Hair styling;
Hyperbaric oxygen therapy;
Legal support & advice.
Such a varied selection of topics is just a part of what Monstroid2 can handle. Designed with the user in mind, this solution provides a wide choice of designs and topics. From creating a personalized portfolio to an eCommerce website, our theme provides lots of opportunities for you. And with the Elementor Page Builder, creating an unforgettable and unique user experience will be easy. It also doesn't require any extra coding knowledge to start creating the website you have always dreamt of.
Cosmiq Energy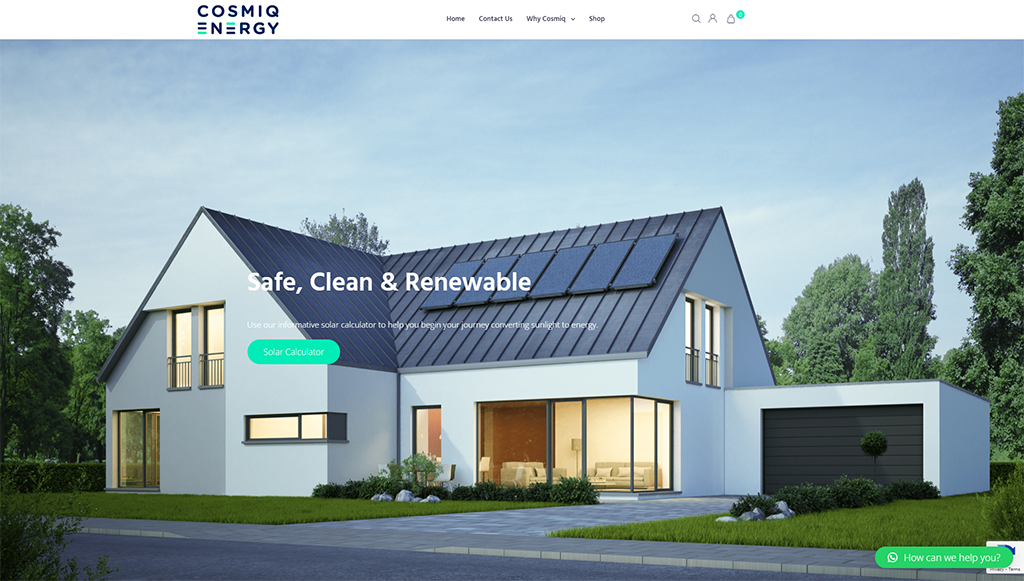 While the Monstroid2 WordPress theme can benefit any modern business website, it also perfectly fits green energy websites. One of the great examples is Cosmiq Energy. It is a company operating in South Africa. They used one of the theme's multiple layouts to create an informative yet cleanly designed site. It helps their visitors to better understand what the company offers right when they open the home page. Furthermore, the company's site has easy-to-understand pricing packages and a testimonials section. There are also well-designed newsletter subscription forms and a list of benefits that this company provides.
Built with a customer in mind, our theme allowed Cosmiq Energy to create a proper user experience. For example, their website includes a solar calculator. It is perfect for planning a customer's budget if they want to switch to a renewable energy source. The website also includes Careers and Shop pages. The first one is built with the help of accordions and clean typography. Both of these features are supplied with the Monstroid2 theme. The eCommerce part of the website is designed to provide a variety of energy equipment and related consumables. With working filters and categories, the Shop page makes it simple for any customer to choose and buy what they want. And with an interactive Contact page, any client of Cosmiq Energy can quickly get in touch with the company's representatives.
Sulinto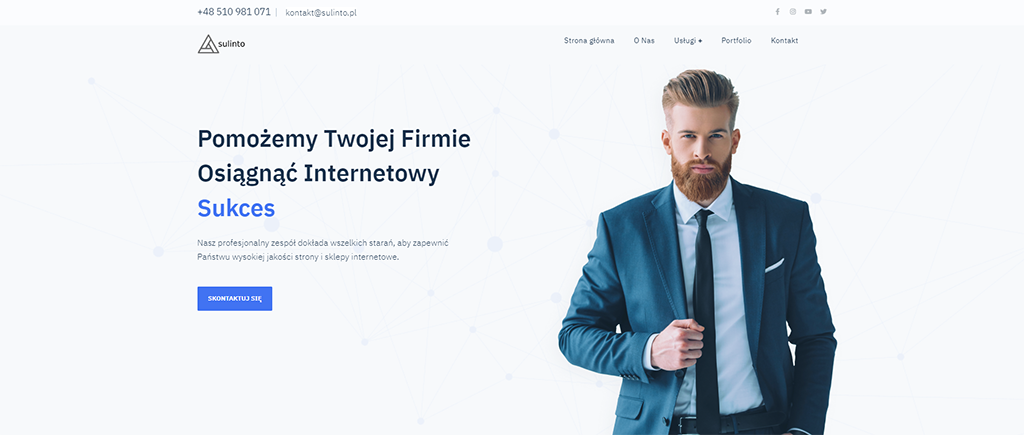 Being a multipurpose solution for all types of businesses, the Monstroid2 WordPress theme is a great choice for web design agencies. Sulinto, a web design & development company, used our solution to build an outstanding site. It is not only a means of promoting their services, but also a showcase of their latest projects and designs. The home page of their website has everything a first-time visitor may be looking for. Whether it's a list of provided services or customer testimonials, the Sulinto website offers a variety of necessary information and other content.
As we mentioned above, their site provides an extensive portfolio of completed web design projects. However, it also pays attention to describing web design services in detail. Many clients are looking for an easy-to-understand description of the web design process. Sulinto provides everything their clients may want to know. Moreover, with built-in Monstroid2 elements and blocks, they describe the company's benefits, too. Lastly, their website allows customers & visitors to keep in touch with the team. This is done with the help of working and configurable forms that come with our WordPress solution.
Alya Veneta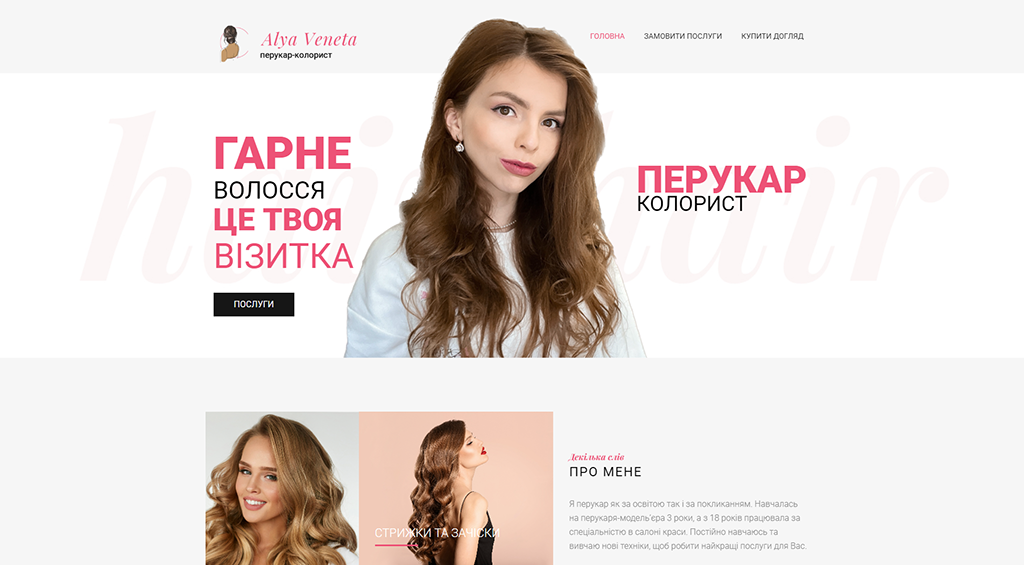 It may seem that the Monstroid2 WordPress theme is a good option for corporate websites only. Still, beauty salons and stylists can benefit from using it, too. A notable example is Alya Veneta, a hairstylist who created her website using our theme. Her site was created to advertise the styling and hair care services she provides. However, it's not the only goal that she achieved with Monstroid2. Alya effectively used the theme's potential to create a site that reflects what she does. Her site also features:
well-animated gallery;
selection of clients' reviews and testimonials;
full-width header with a slogan;
appointment form and calendar;
footer with social icons.
Aside from the abovementioned functionality, Alya Veneta's site also has a shop page. It features a wide range of hair care products. They are available for purchase in a few clicks. The website includes all the features you would expect from a well-established beauty store. The hair care section of her website is quite detailed. It contains product images and descriptions as well as usage instructions. Moreover, the site includes an extensive pricing table with different packages and options available. With diverse transitions and animations, Alya's website presents her services and skill level well.
Oddech Zdrowia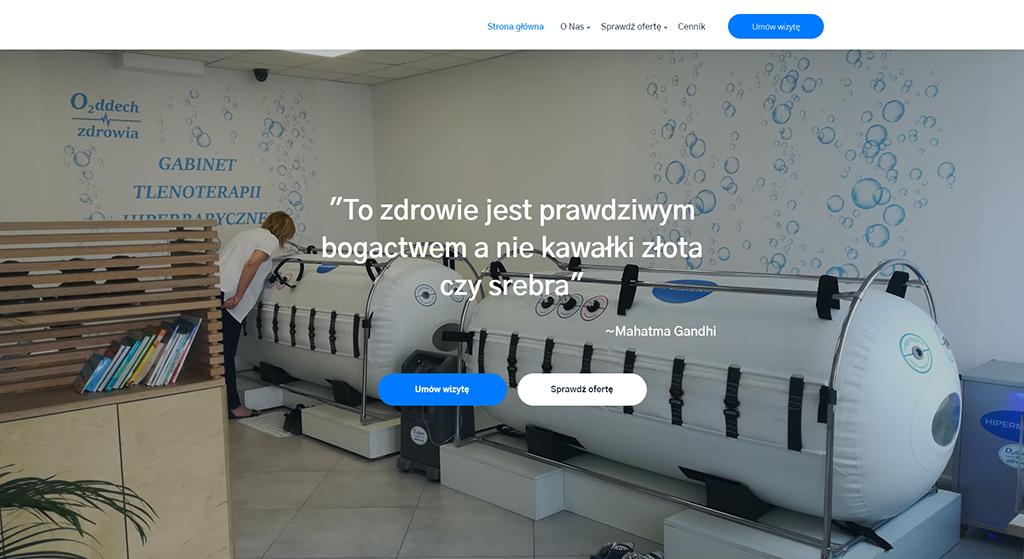 Many health and beauty clinics often require an updated and modern website. This is highly recommended for advertising varied medical services, especially those that aren't well-known. Oddech Zdrowia is one of the quite specific medical service providers. They use the Monstroid2 WordPress theme to promote their solutions. Their hyperbaric oxygen therapy (HBOT) services have a wide variety of medical uses. From treating radiation injuries to preventing migraines and hearing loss, HBOT is recommended as a treatment for many diseases and pathologies. A clinic that provides such services requires a well-designed website. That's exactly why Monstroid2 was used to develop an online presence of Oddech Zdrowia.
For example, their website features a range of well-crafted pages that explain the benefits and indications for hyperbaric oxygen treatment. Also, there you can find more details about how the clinic provides its services and what equipment they use. Most importantly, their website offers an extensive pricing table with varied packages for different services. By the way, the solutions that Oddech Zdrowia provides aren't limited by HBOT and also include lymphatic drainage and vibrotherapy. Each of the services is perfectly presented on the website using diverse sections and elements. From typography to animated counters, the site owners harnessed the potential of Monstroid2. It helped them to deliver an informative and memorable user experience.
RPJur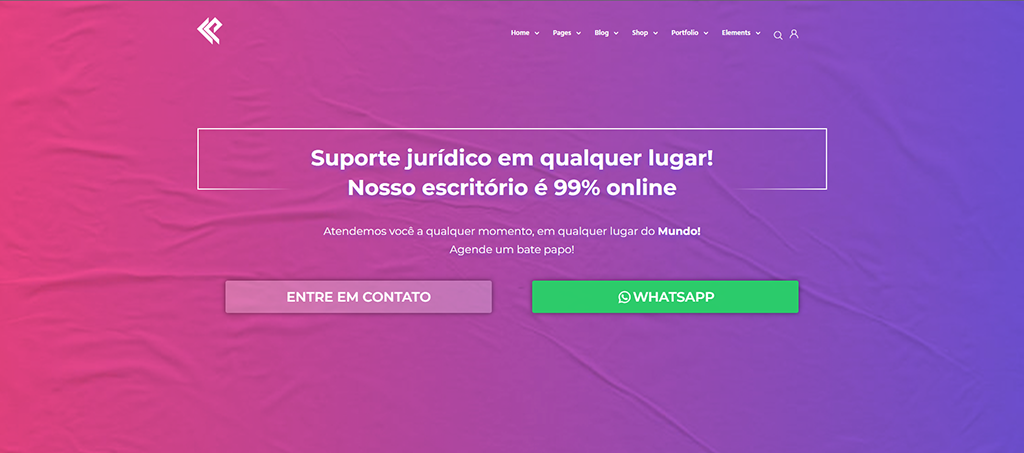 Legal and judicial topics are one the most demanded when it comes to web development. As a multipurpose solution, the Monstroid2 WordPress theme can also be used for such topics. One of the notable examples is the RPJur website. It represents a Brazilian law firm that provides consulting services to corporate and individual clients. For such a company, a website needs to be properly designed and well-developed. Our theme allowed the developers to reach the set goal. They created a website that manages to effectively perform the following tasks:
Advertise the offered solutions;
Explain how the legal team solves clients' problems;
Provide a convenient way to contact a legal advisor;
Show what spheres the company specializes in.
While providing related content is key for any website, Monstroid2 manages to properly display it. For example, the developers of RPJur used sections for getting and retaining the client's attention. Other parts of the site also promote diverse ways of communication with law experts. For example, the visitors of PRJur can contact the attorneys directly or use a messenger. Moreover, the website has clean typography and a corporate-styled UI design. This allows users to easily comprehend the website's content while also enjoying the browsing experience.
Themes Based on the Monstroid2 WordPress Theme: Conclusion
We hope this overview of the Monstroid2 WordPress theme and related websites has helped you to better understand what it provides. With varied design options and features, it is simple to craft a captivating online presence. The abovementioned sites created by our clients prove it. And if you have an idea for your new or existing website, our solution is just the right tool to make it a reality. Furthermore, it doesn't require you to have extensive web development experience. That's why our theme is highly popular among both professional developers and regular WordPress users.
If you wish to know more about web design, feel free to visit our blog. There we regularly publish new guides, reviews, and articles about web development, eCommerce, and online marketing. For more themes like Monstroid2, don't forget to visit our website and view our portfolio. With dozens of ready-made solutions, we're glad to offer the right theme for your website. You can also get the latest updates from us via social networks. To do so, don't hesitate to follow and like us on Instagram and Facebook. Whatever your interests, with Zemez you can stay updated about the latest in web development.