If you are a blogger or regularly publish posts and use the same pieces of content every time, the Gutenberg reusable blocks will be a great solution for you to reduce the time which you spend on post creation. Such feature as reusable blocks in wordpress 5.0 lets you save the snippets and use them in upcoming articles. In this tutorial, we will show you how to create and use them with your content.

Create a reusable block
Often when you write your articles for the site or blog you use such information that repeats in each post. It can be: banner, call to action, social network links follow requests and others. Reusable blocks in WordPress 5.0 and newer allow you to save this repeated snippets directly in the editor.
To start working with reusable blocks open "Posts" and press "Add New" or choose an existing one to edit. Then by clicking on "+" add the necessary block according to the snippet you want to save. In our case, it will be a paragraph.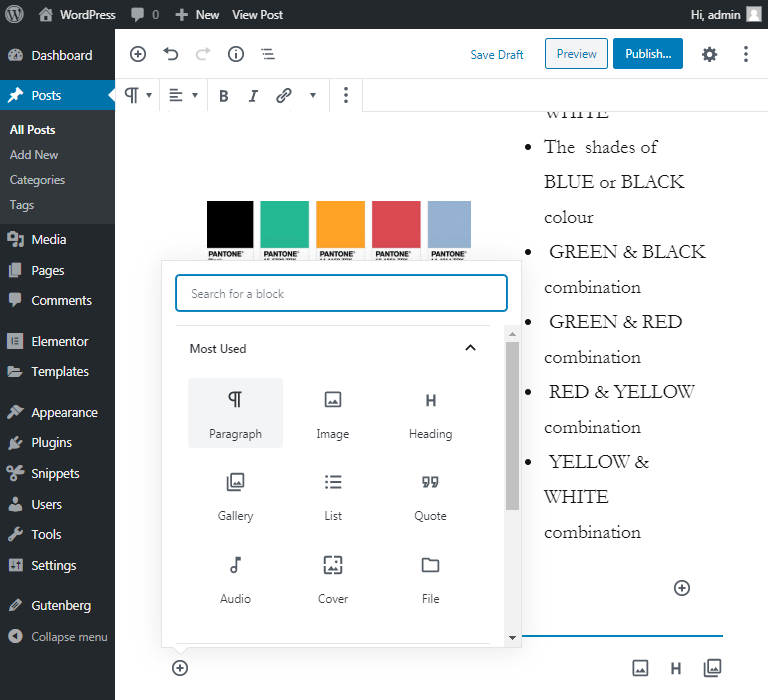 After you have added the block put the content that you need to repeat in your future posts. Customize style it according to your tastes to be suitable for any your article. You can do it in the left hidden sidebar with block settings.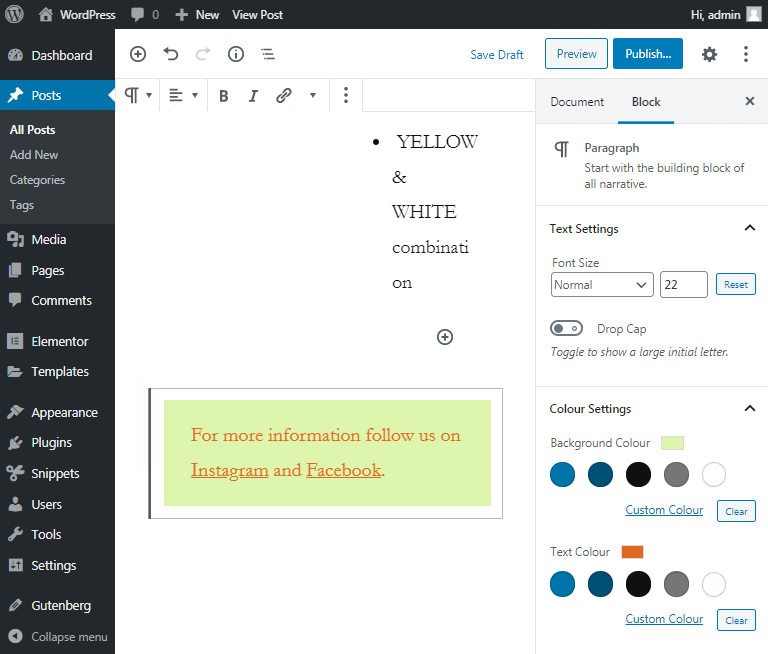 When you have finished your editing click on the block you want to save and tap on the "ellipsis" button in the editor top bar.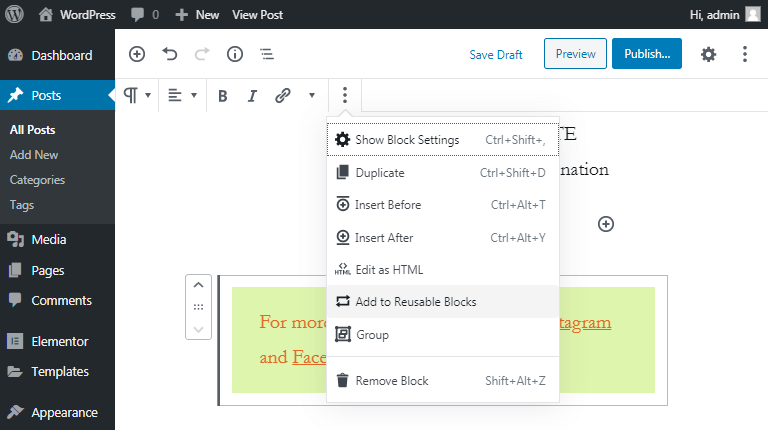 Enter the name of your new reusable block in the appeared field. It should be similar to its purpose. We used the "Follow us in social" to quickly find it when necessary.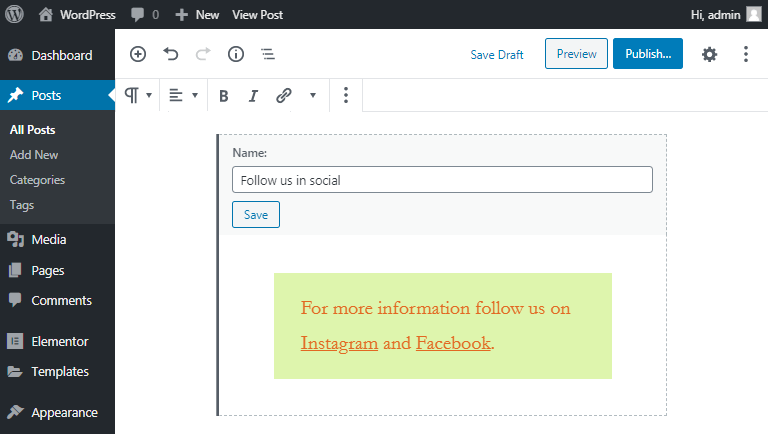 Next, when you entered the block title tap "Save" to save as reusable block in Gutenberg.
Reusable block managing features
Note, that you can not only add and delete your existing reusable blocks but also make more actions with them. To start managing them you should go to "Add New" – "Reusable" tab and there find the "Manage All Reusable Blocks" button and click on it.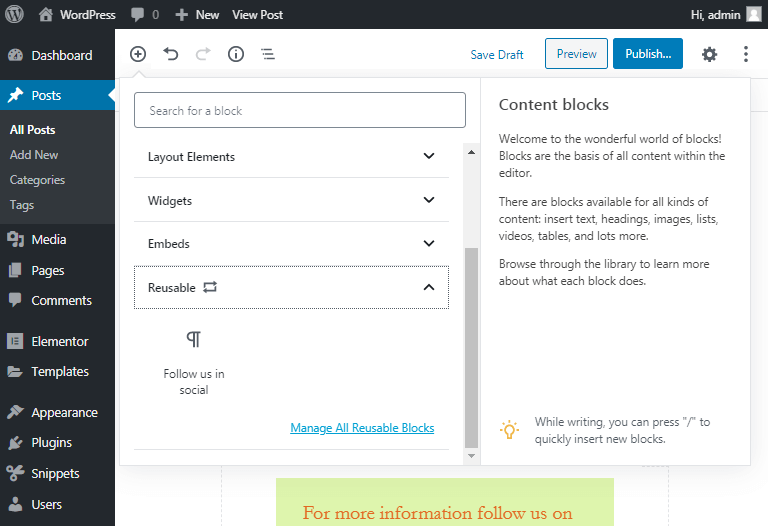 By this clicking, you are transferred to the block window. There you can edit, delete, export and import the reusable blocks. All in one place for your comfort.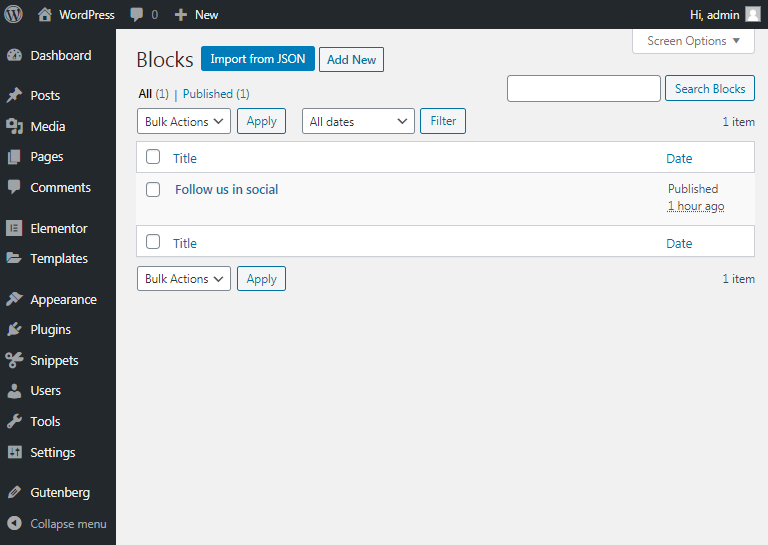 Use reusable blocks with posts
We have saved a reusable block and now it is time to use it with your other posts. It is very simple because after saving your first reusable block, "Reusable" tab appears in the block menu. By clicking on it you will find all your saved blocks. Let's insert them into your post together.
Click on "Add new" button and find the "Reusable" tab or simply write its name in the search field. There are all your created blocks and you can choose any one of them. Place the cursor on the needed block name to preview it. Tap on it to paste into your text.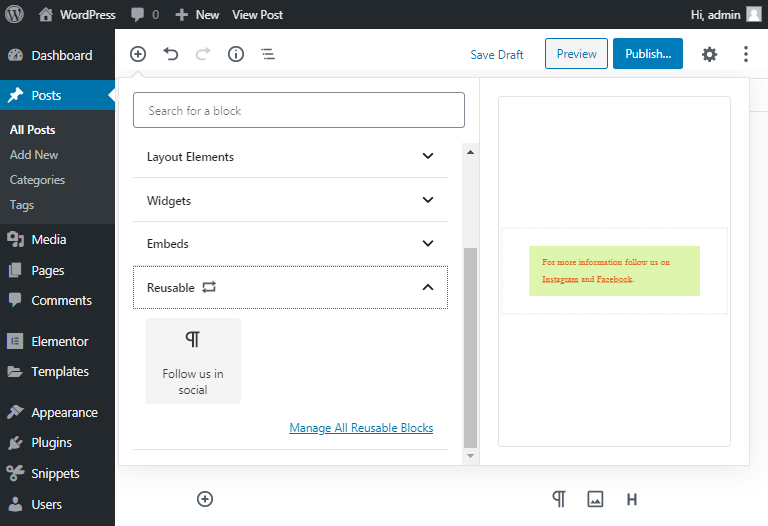 You have successfully done this issue.
You also have an opportunity to fix this block or customize it at your discretion.
Good luck!