Hey! Are you often perplexed about where to get a worthwhile template that will help you to build a website for the consulting agency? We have a silver bullet for you. Take a look at the TaxPress consulting services WordPress theme, which is available on ThemeForest. This template is a fabulous variant for any corporation or business company. 

The TaxPress WordPress theme can boast of hundreds of modern features. Also, if you're not sure about your coding skills and the amount of knowledge, then this consulting services WordPress theme will definitely fit you.
Why? Let's explore all that and more in the blocks below.
Be Ahead of the Curve with the TaxPress
We are sure, you will join us in creating websites that are ahead of the curve and tech. TaxPress consulting services WordPress theme is a way to successful online business. So, what this template can provide you with? 
Firstly, TaxPress is on the base of the Elementor page builder with the WooCommerce plugin. These two tools will save you time exponentially. To be exact, they're the ones that allow you to boost the website without any coding skills, even when this is your first experience.

Secondly, a great number of widgets inside let you create the pages in the way you want and will ensure the webpages with all the required options and technologies. For your services, there are such elements as customizable footer and header, multi-field subscribe forms, pricing tables, and diversity of sliders. Set up the website from scratch in a short time with a TaxPress.
Moreover, the consulting services WordPress theme guarantees you stable performance in any case. Just test the website with the preferable way and make sure it's true.
Consulting Services WordPress Theme with Page Templates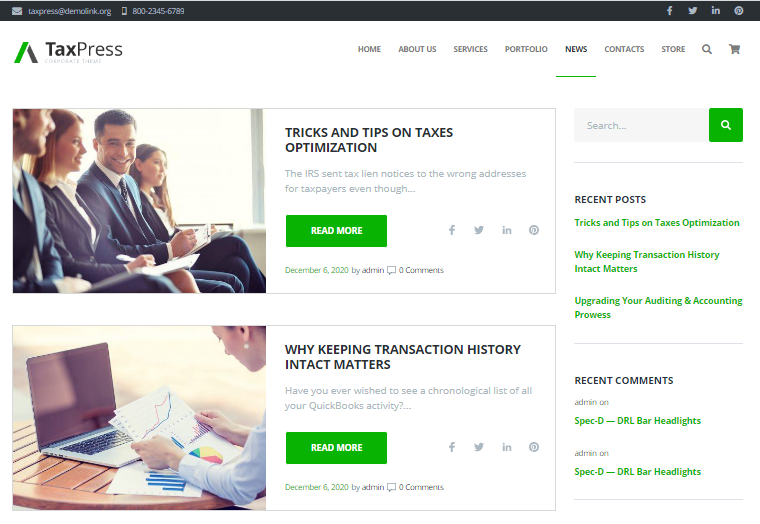 One of the pros we can find in the TaxPress, it's the bandle of the pre-made page templates to any taste. In our WordPress themes such a package isn't a bonus, but a basic perk. Just choose the most suitable and start building the website of your dream.
Check the list of these pages:
About us;
Services;
Portfolio;
News;
Contacts;
Store, etc.
Draw your attention that the layouts are ready to use, so you don't need to fill them from the ground-up if there is no time. However, in case your imagination is limitless and you're full of ideas, then unleash your creativity and create a unique website.
WooCommerce Plugin to Boost Your Store 
We've already mentioned the WooComerce plugin as one of the tools that make your workflow easier and more efficient. Without this plugin, you won't have the possibility to build an online shop on your website space.
So, what exactly will you receive using the WooCommerce?
Be ready to get a package of additional widgets that are a must-have in building an online store. It comes with the Product page and Single product page, Wishlist, Shopping Cart, personal account, and loads of other elements for a convenient website using.
A significant point for any website is a look at the menu. With WooCommerce get a chance to create a MegaMenu. What does it mean? It means your menu can be filled with different types of content, such as images, discounts, and popular services. Explore the advantages of such a kind menu that will showcase all the necessary products and ease the website navigation in times.
Responsive Design is a Must-have of Any Website
When choosing the WordPress theme as the base for your future website, you must make sure that your website will look brilliant on any type of screen. Our TaxPress consulting services WordPress theme is responsive, so your customers can sleep soundly.
Moreover, the website will adapt to any device instantly, so there is no doubt users will be satisfied with the picture they see on their screens. Also, TaxPress is retina-ready and guarantees high-quality pictures. As a result, your visitors will be involved in the website performance and process of purchasing the services. Especially now, when all over the world people prefer mobile versions of websites to the desktop.
No nerves anymore. With TaxPress just use the website and relax.
Why Choose TaxPress Consulting Services WordPress Theme?
You can find the TaxPress consulting services WordPress theme on ThemeForest. This is one of the most famous marketplaces, which contains plenty of high-quality themes for any taste. TaxPress demonstrated its professionalism and the latest technologies that deserve being in that marketplace.
Then, price is an important factor when purchasing the WordPress theme, so our TaxPress is available for only $75. This price includes a half-year support by Zemez and an exclusive functionality you will be satisfied with. 
Speaking about the key points of the TaxPress advantages, they are:
ability to build a website with no requirements of coding skills;
the simplest customization with elementor page builder on fast;
super high performance of the website
So, don't hesitate and build the website of your dream with the TaxPress consulting services WordPress theme by Zemez.