Zemez team has designed and created a brand new Entorum business PowerPoint template this month. This is the first presentation template by our team, and, clearly, the experience of creating it was somewhat challenging.
The right presentation makes it easier to serve your ideas to the audience. That's actually the reason why so many people keep looking for the right PowerPoint presentation template, and, once they find the one they like, they just keep using it for years.
There are hundreds of presentation templates out there, and many are pricey, while others are completely free to use. All of them look nice and clean on the outside, yet when one starts using a template, he might find out that he can't build slides he wants with it.
So, what can go wrong with a presentation template? And what are the qualities of the "right" PPTX presentation template you'd be happily using for different business projects?
100% customizability of any content
When you look at the presentation template, you envision that any part of it can be changed or replaced by your custom one. It's true for high-quality PowerPoint presentation templates.
The problem is that you can't really tell if you'd be able to customize the presentation template, if everything is flexible enough to match your needs.
Then, when you start replacing the default image layers with your new ones, things go South and the stylization that was used on the default images is not applied to the ones you've just uploaded.
You might also find out that the template you've chosen has PNG format for the image that should be vector. This way you won't be able to edit the curves and points. You'd have to fully replace the images with the new ones and, perhaps, spend more money on vector graphics.
Actually, every part of the presentation template is important, even the text stylization and font that is used.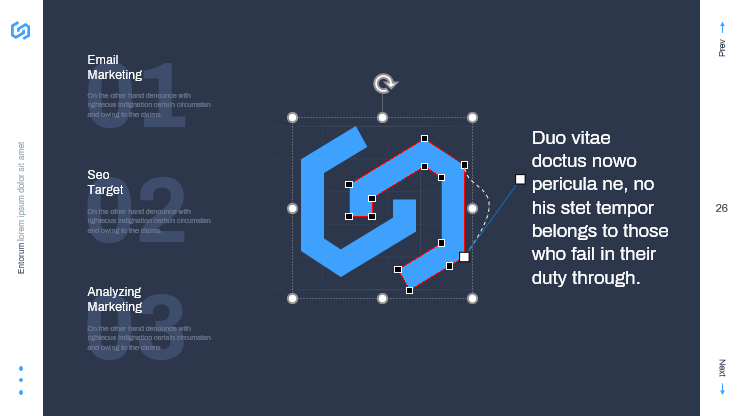 Speaking of Entorum business PowerPoint template, it contains vector graphics that can be changed according to your needs.
The stylization of the images stays in place once you want to replace them with the new ones.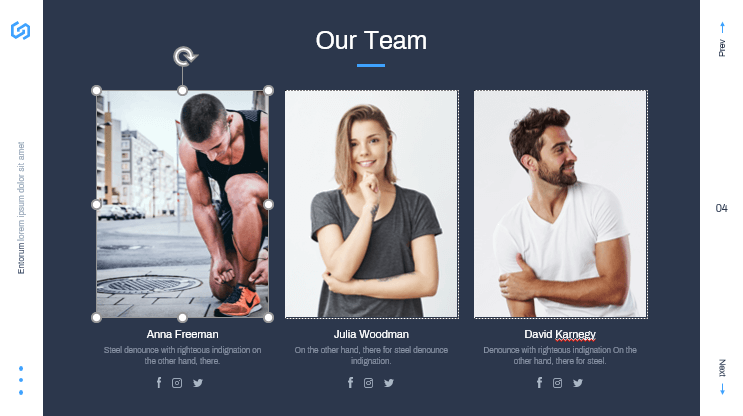 In order to get everything look perfect, you'd only have to install the font that is used for the content (it is included within the Entorum.zip package along with the detailed instructions on how to install it on your computer).
Editable infographics
You want to show the growth of your business in numbers, yet you've got no skill at building charts and diagrams?
This might be very well a reason why you might think of getting a powerful PowerPoint template for business topics. There are many presentation templates with the ready diagrams in place. But you can't be sure you'll be able to change them.
Some presentation templates contain the diagrams and charts in the form of image layers, and while looking good, they won't be of any use to showcase your numbers and data.
Entorum business PowerPoint template, in its turn, lets you replace the default numbers with your data, and the infographics will be built automatically based on your numbers.
There are 28+ analysis infographics slides, and all can be edited and used to highlight your information and tell your story.
The importance of the aspect ratio
The presentation you've chosen and built might look great on your laptop. How about looking good when you display it to your audience?
There are several basic aspect ratios of PowerPoint presentation to use for different cases:
4:3 – good for almost any projector, other than LCD (there might be black bars on the sides of the slide). You can also use this format to print the presentation.
16:9 – use this .pptx presentation format to project on LCD screens, it will be great for the conference and large audience;
16:10 – this aspect ratio will be good for presentations you display on widescreen laptops and monitors;
A4 – use this format if you want to print your presentation and you'd be displaying it in the printed form only.
When you work with Entorum PowerPoint template, you get all 4 most used presentation formats, and it's up to you to decide which is better to use.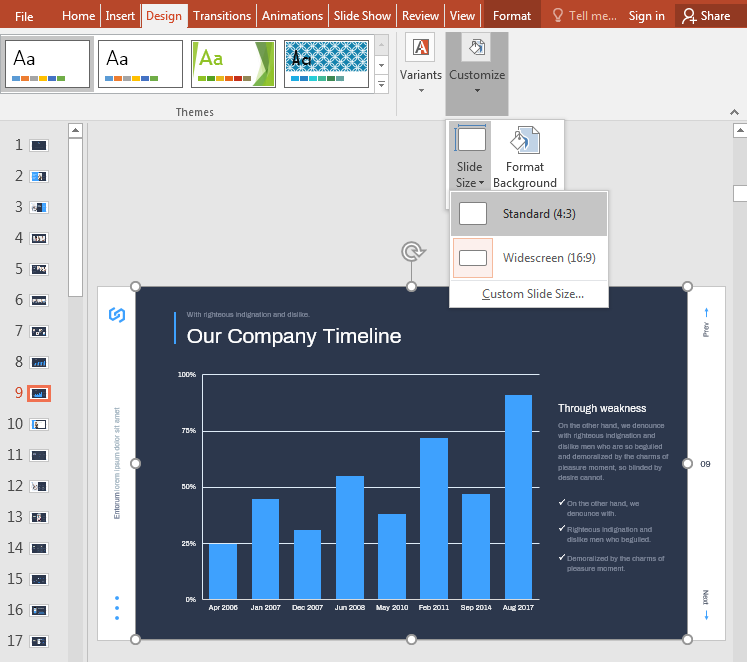 Actually, any presentation template of high quality should have different aspect ratios. We can advise you to check if these aspect ratios are included in the presentation template before purchasing it.
Dark and light style variations
Some of your content might require a darker background, while the other images need a light background of the slide.
When working on a presentation, you should keep it in mind that the dark or colorful photos will look better on darker background, while the photos with a white or pale color palette will be highlighted on a light background.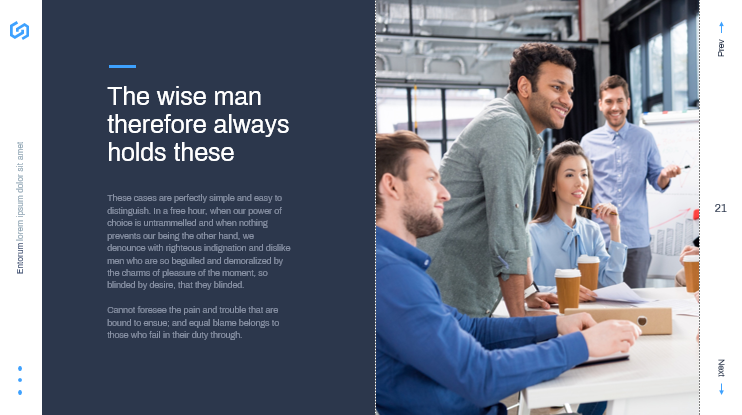 For one, Entorum business presentation slides are available in both dark and light style variations just for that purpose.
Presentation logics
The presentation itself can look classy, yet it will be useless if you won't keep the slides in a strict logical order, and make them diverse enough to keep the attention of your audience glued to your pitch, project or story.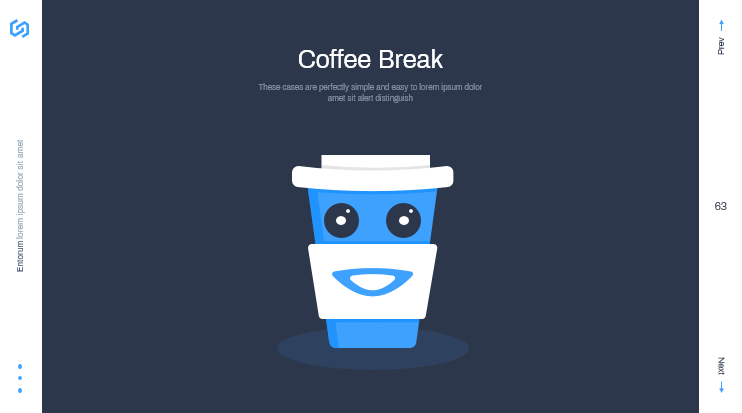 With Entorum business PowerPoint presentation template you'll have a variety of slides to choose and use as you need. There are slides with image layouts, slides for showcasing stages and timelines of the projects, as well as the funny slides for coffee break, etc.
The template will be a true treasure for everyone who needs his presentation to capture attention.
Possibility to embed a video
What can better display your content, than a video added to PowerPoint presentation?
If the template you're using doesn't have a specific slide for this purpose, or you want to replace an element you have with a video, follow the instruction below.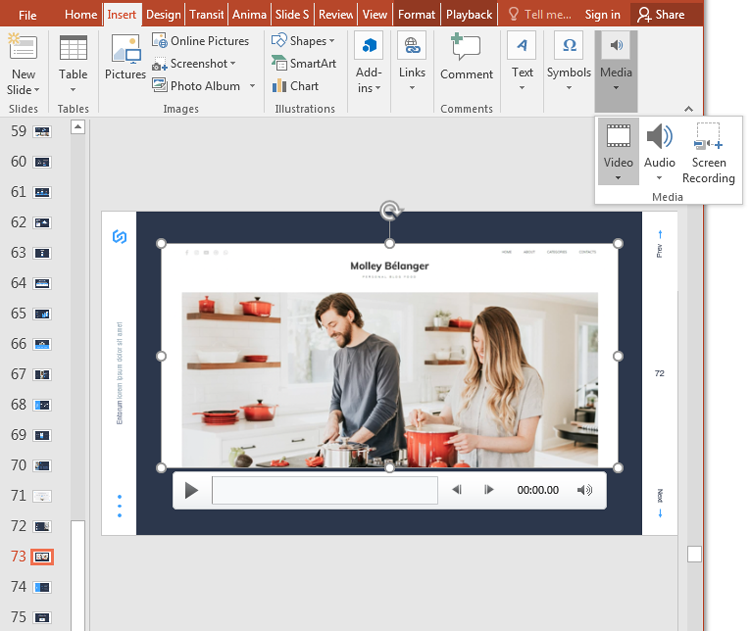 Let's check how to embed a YouTube video in PowerPoint to the slide of your template.
To add it to one of the slides, upload the video you wish to use, to YouTube.
Next, use the Share option and choose Embed. Copy the code to the clipboard.
Choose one of the slides and use Insert menu to access all kinds of content you are allowed to add to the presentation.
On the right you'll see Video option, choose it and click Online video to continue. Paste the code you've copied in the Video Embed field.
The process is very easy, and the video added to the presentation will make it even more eye-catching for your audience.
Which presentation template to choose?
There is always more about preparing the PowerPoint presentation than you see on the surface. We've covered the most common issues you must know about when choosing a presentation PowerPoint template for business.
We were providing Entorum business PowerPoint presentation templates as an example of how a high-quality presentation template should work – making it easy to showcase your ideas in the best light.

It's always up to you if you'd be using a free presentation, or choose a professional presentation template for your slideshow.
However, in most cases, the presentation does matter when you want to deliver content effectively.
Choose wisely, and make sure the presentation template you've chosen has all the needed aspect ratios and options you want to have at your disposal.