Choosing the Best HTML5 Themes for Your Website
Finding the best HTML5 themes for your website can be a daunting task. Nowadays, many people rely on multipage templates and landing pages. It simplifies the web development process drastically and allows choosing the right look for a website. Such solutions offer a variety of pages, layouts, and functional advantages. Furthermore, using HTML templates is one of the best ways to establish a trustworthy website. They provide you with extreme flexibility and outstanding looks for your online presence.
As you may have guessed, in our today's post we are going to discuss various HTML5 website templates. We will cover various aspects of using these solutions in developing personal and corporate websites. Moreover, we have picked the 10 best HTML5 templates available at the Envato marketplace. They include both multipage templates and landing page solutions. Now, let's find out how all these themes and their advantages can help you create a memorable website for you and your clients to enjoy.
The Role of HTML5 Templates in Web Development
HTML5 website templates are flexible solutions that offer dozens of benefits. Whatever website you are planning to build, these templates can drastically simplify the web development process. Furthermore, they provide great opportunities for both beginners and pros in web development. When it comes to building custom websites, ready-made templates are a great time-saver. They provide a strong basis for any online project regardless of its size. These web design solutions vary not just in functionality but also in topics. For example, they can cover:
Photography;
Fine art;
Religion;
Coffee production;
Financial advisory
Web design;
Marketing;
Construction etc.
Various templates solve different tasks and are often specifically designed to meet the set criteria. This may include having an admin dashboard or specific sections. For example, themes for photography websites are based around a portfolio. Corporate websites are unimaginable without pricing tables. And of course, the best HTML5 themes can't exist without a blog or a contact page. Various purposes demand different page elements, scripts, and plugins. While it is up to the template developer what to include with their products, many solutions are often created as multipurpose. Thus, they can fit different topics and goals. The template list we have prepared for you includes both multipurpose and topic-oriented solutions. Let's learn more about them.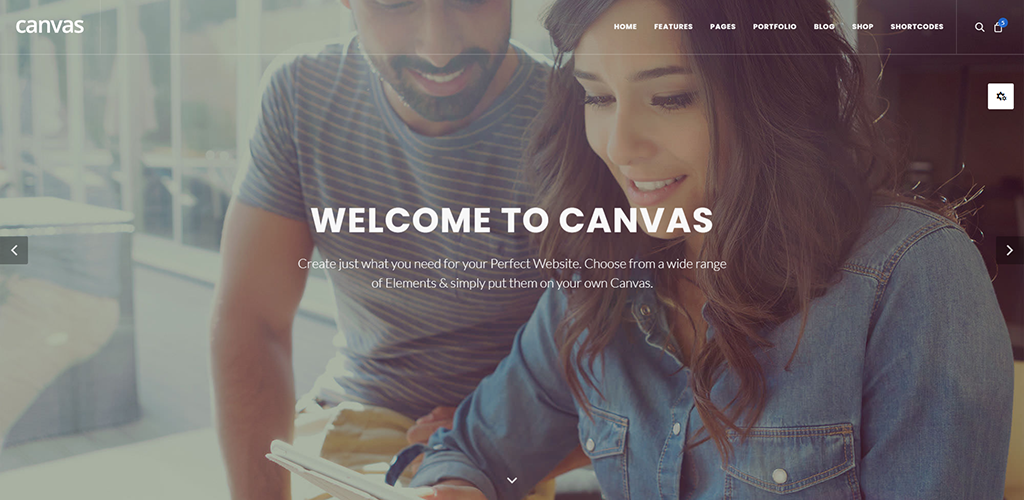 Canvas – The Multi-Purpose HTML5 Template
Multipurpose HTML5 templates are one of the most popular web development solutions these days. Their status as the best HTML5 themes is well-deserved. These templates allow users not to worry about the website topic. When getting a multipurpose website solution, you can rely on its versatility. Canvas is one of such templates. Trusted by users worldwide, it offers a variety of pages, niche demos, and layouts for any kind of website.
From product-oriented landing pages to business and creative websites, this HTML5 multipurpose template provides a vast range of opportunities. Its simple yet powerful customization system allows you to change nearly anything. From elements to whole pages, everything can be changed by your ideas. Furthermore, this solution includes a wide selection of features and shortcodes. They can help you make your site look even more unique. From megamenu to testimonials and modal boxes, you can combine various elements and sections for a better user experience.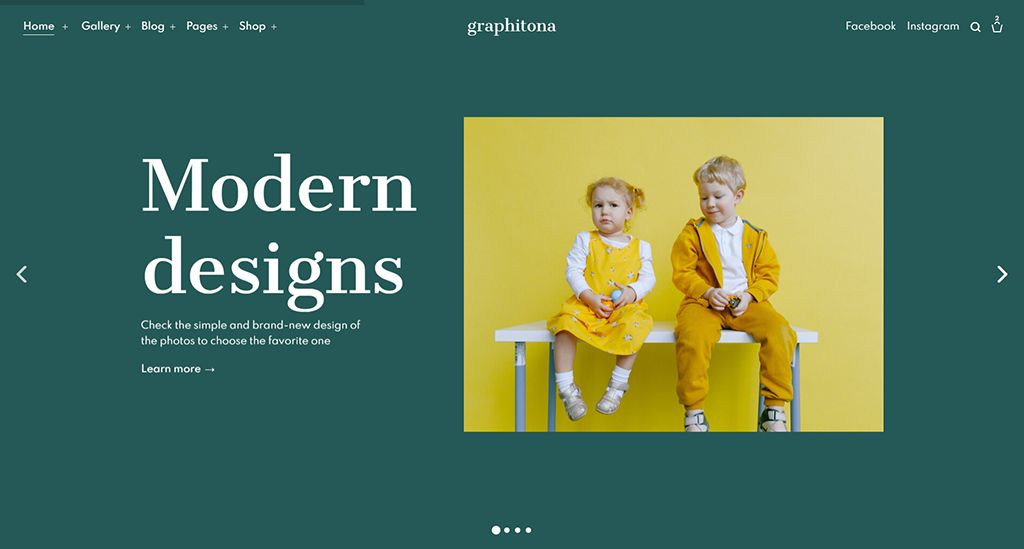 Graphitona — Creative and Aesthetic Photographer Multipage HTML Template with Photo Sharing
For those who are looking for a more creative approach to building a personal website, the Graphitona HTML5 website template will be a preferable choice. This solution has what's necessary for designers, photographers, and creative agencies. Whether you are just starting to build your portfolio or need an impressive design for it, our HTML5 template has what you need. It comes with a variety of benefits that can make a difference for your website:
6 homepage layouts;
10 gallery layouts;
5 project layouts;
4 blog layouts;
eCommerce-ready Shop pages;
Cross-browser support;
Smooth CSS3 animations and transitions;
Aside from the abovementioned benefits, Graphitona is one of those best HTML5 themes that also offers a variety of UI elements and components. With its sliders and forms, you'll be able to make your website more interactive and informative in no time. Furthermore, this template is well-optimized and highly responsive. This is possible thanks to the integrated Bootstrap 5 framework. With its stylish design and easy-to-customize layout, this creative HTML5 template can easily run on any screen resolution and device. It also provides simple yet effective maintenance for any website.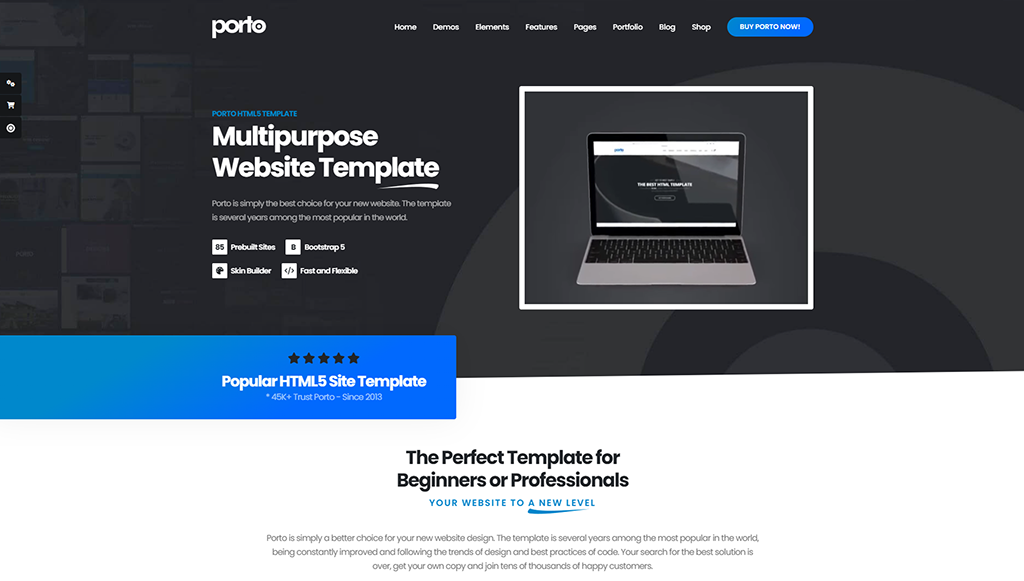 Porto – Multipurpose Website Template
Another great multipurpose solution suitable for any website is the Porto HTML5 website template. It comes with a bunch of niche themes and pages. From corporate to classic homepages, each type of provided layout offers a new and interesting take on modern web design. Due to a variety of elements and sections, this HTML5 solution can be used to create a 100% original website. No matter what kind of online presence you need, this template can handle anything.
With its blog and gallery pages, Porto is one of the best HTML5 themes that allows you to add varied content to your site. Furthermore, it offers a wide set of sections. From headers to navigation options and sliders, there's a lot to spice up your website with. Besides, this solution is eCommerce-ready. It means that you can freely use its pages to set up an attractive online shop. The varied elements and effects such as counters and parallax will help you add more detail to your website. This will result in a unique UI and design that attract potential customers.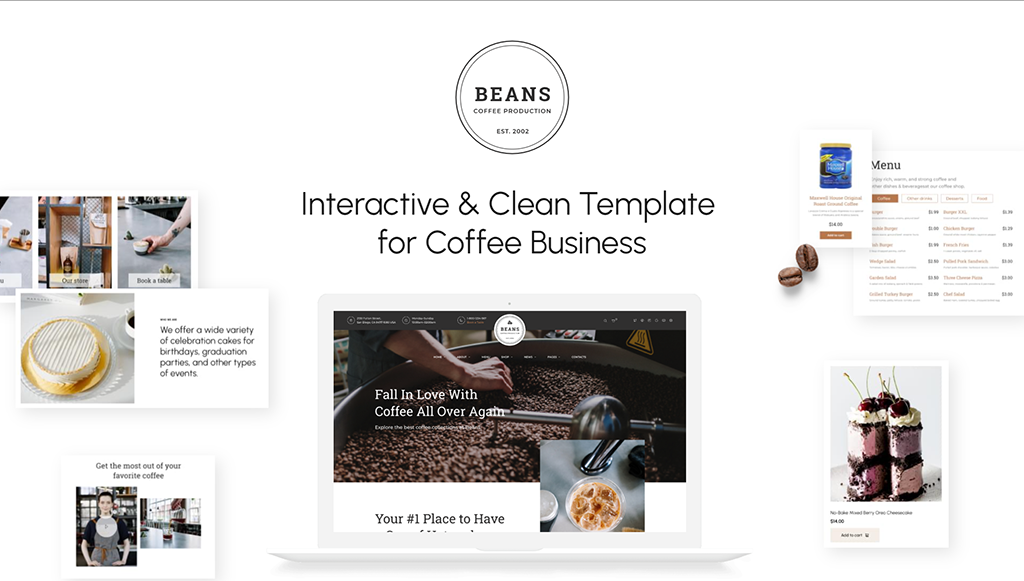 Beans – Coffee Shop Website Template
Websites for coffee shops stand out as quite original solutions. They often feature a catchy design combined with a content-rich layout. This helps them not just to stand out but also to promote the brand they are representing. If we are talking about a coffee company that sells its products via coffee shops, being unique and recognizable is also important. The Beans HTML5 template is just what you need to make your coffee shop website just as striking as your brand.
While initially designed for coffee shops, this solution was recently updated. Now it includes a dedicated home page for cake shops as well. The template also features 4 homepage layouts for a coffee shop. This allows you to choose how you want your website to look easily. Being one of the best HTML5 themes developed by Zemez, this solution features an extensive UI elements kit. it also comes with 4 layouts for both blog and gallery pages. Moreover, this solution is great for setting up an online store for selling coffee. It features a set of eCommerce-ready pages. And of course, the Beans template provides everything necessary for showcasing your professional achievements and advertising your coffee brand.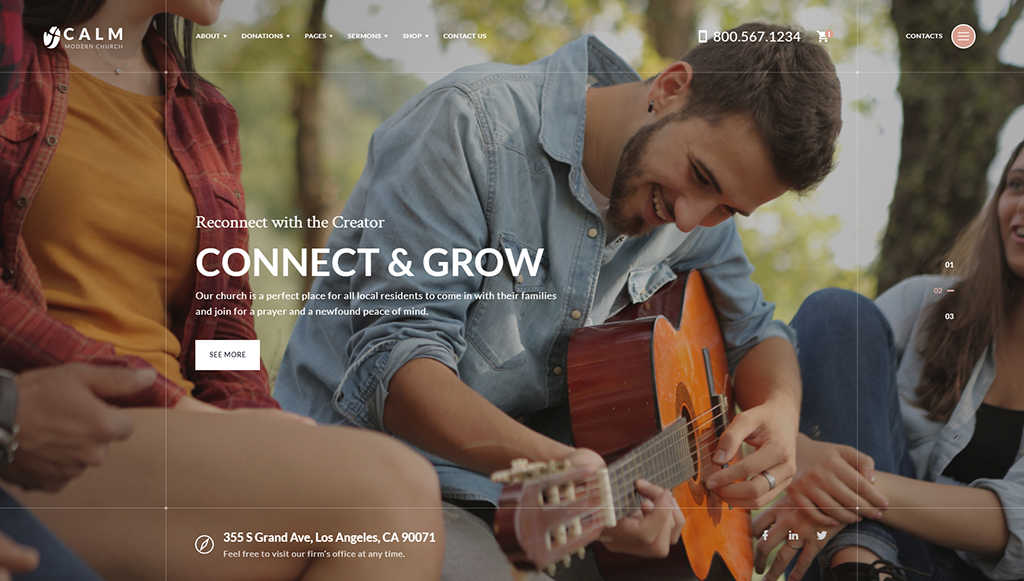 Calm – Modern Church HTML Website Design for Religious and Non-Profit Organizations
For those who are looking to establish a modern church website, it may be hard to choose one specific template. Diverse solutions feature various aspects of a church and religion. If you need a well-designed HTML5 solution for your church or want to host a fundraiser, the Calm modern church HTML5 website template has what's necessary. It is a flexible web design solution based on Bootstrap 5 offering detailed customization and high responsiveness. Among other features, here's what you can expect from it:
SEO-ready layout;
Dedicated sermon pages;
Configurable contact & newsletter forms;
4 blog layouts;
Donation and about pages;
Smooth CSS3 animations and transitions.
Sometimes you may also need to establish a store to sell printed sermons and religious literature online. This modern church template can also help you with it. Also, with the thought-out headers, footers, and navigation, finding any information on your website will be easy. And with the full-width slider section, you can create a proper first impression. Furthermore, the Calm modern church website template offers a proper social integration. It allows you to connect your website with your social pages. This template can be easily considered one of the best HTML5 themes.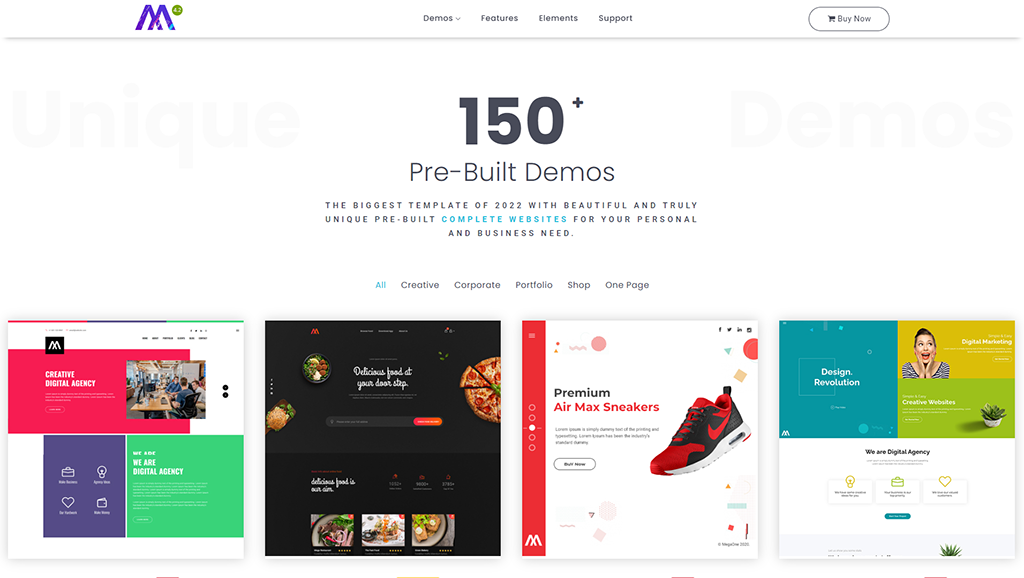 MegaOne – One Page Parallax
For those who are looking for a way to effectively promote your brand online, landing pages can be a perfect solution. While being affordable, some of the best HTML5 themes provide what you'd expect from a modern website. Whether you need to market a newly released product, using such solutions is highly recommended. Moreover, when a template combines several landing pages and topics, it can also be multi-purpose. That's exactly what the MegaOne HTML5 landing page template provides.
This one-page parallax solution is your #1 tool for establishing an impressive website. It offers over 100 landing pages and design layouts. Based on the Bootstrap framework, this template provides full control over the content. Also, it offers high responsiveness. And with provided Google Fonts, you'll be able to make your site look spectacular and informative. Extensive customization and great UX/UI design make the MegaOne template an outstanding solution for any kind of website.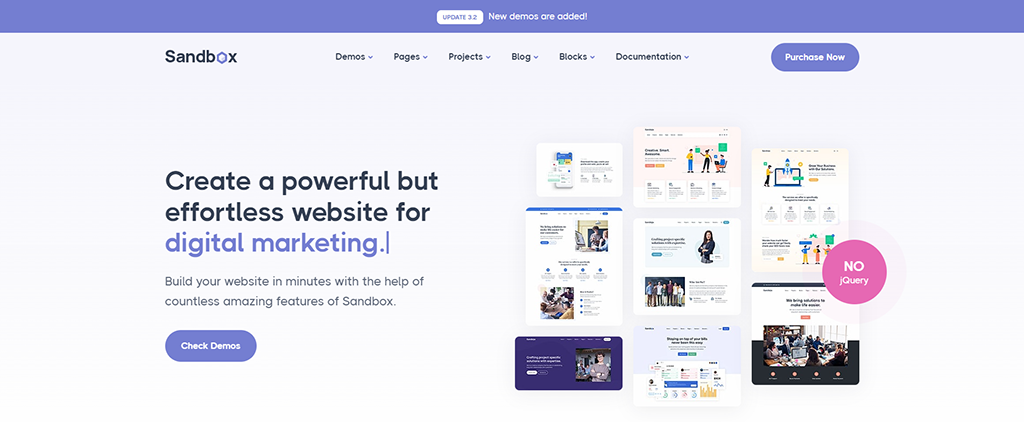 Sandbox – Modern & Multipurpose Bootstrap 5 Template
Sometimes you may be looking for the best HTML5 themes with a corporate feel to them. Unfortunately, not all templates available in the market can fit your business right away. And when a template offers high-quality customization tools, it is always a better choice. Especially when it allows you to edit any part of a website. If you wish to create a modern and corporate website while being able to fully edit its layout and elements, the Sandbox multipurpose Bootstrap 5 template is just what you need.
This HTML5 solution comes with a wide selection of ready-made pages. Whether you need to describe your company's projects or post regular updates and news, this template has it all. It can be also used to advertise the recent career opportunities your company has to offer. With over 25 pre-designed homepage layouts and lots of elements, Sandbox can help you build a business website of any complexity. Furthermore, it provides a varied selection of sections. They can host your content and be 100% customized.
Polo – Responsive Multi-Purpose HTML5 Template
A modern website template needs to be not only powerful but also lightweight. There are many templates that contrate on either of these aspects. However, even some of the best HTML5 themes may lack optimization or variety. The Polo responsive multipurpose HTML5 website template is as powerful as it is lightweight. It comes with over 200 unique layouts suitable for various websites. Every layout is fully editable and customizable. Polo allows you to use any part of it to build an original website. It also comes with over 70 shortcodes and elements, such as:
Blockquotes;
Calendar;
Icon boxes;
Pie charts;
Smooth scrolling;
Testimonials etc.
However, this is just a small part of what the Polo HTML5 website template provides. It also comes with impressive hover effects for the gallery, diverse page loaders, sliders, and widgets. Furthermore, it features a wide range of ready-made pages for your website. They allow you to tell more about your team, services, or the company itself. You can even establish an online store using one or several layouts provided with this solution.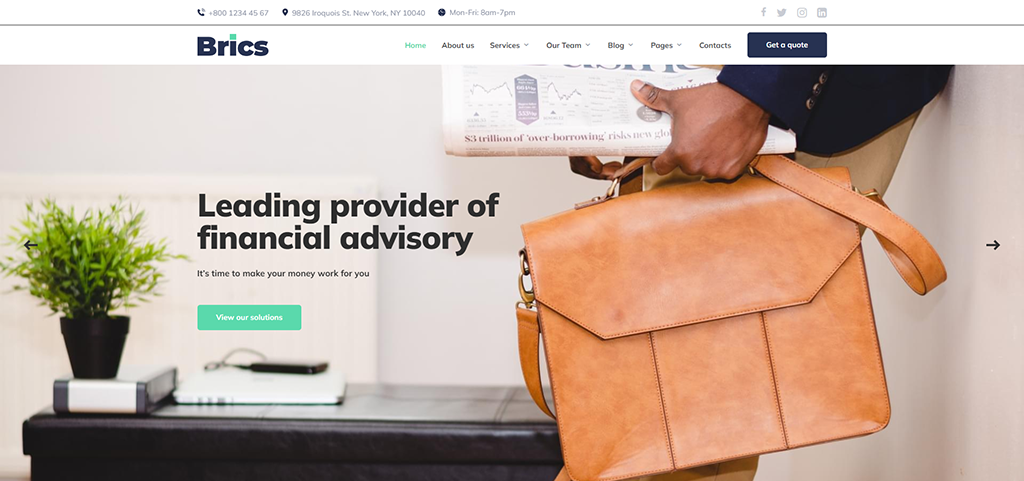 Brics – Financial Advisor HTML5 Template
Many financial-themed templates can be often considered the best HTML5 themes. However, not every template can fit a financial consulting website. You may be looking for something not just impressive and memorable but also detailed. When a template provides lots of customization potential, it can be your key to online success. However, it should also offer lots of space for your content. The Brics financial advisor HTML5 template is one of such solutions.
This template provides smooth animations and transitions complemented by a colorful & corporate design. Brics is a great basis for developing a strong financial website. It has a variety of useful elements and sections. No matter how experienced you are with web development, this solution can provide you with the necessary tools even for an existing financial advisor site. It is a perfect solution not just for advertising your services but also for establishing long-lasting connections with your clients and partners.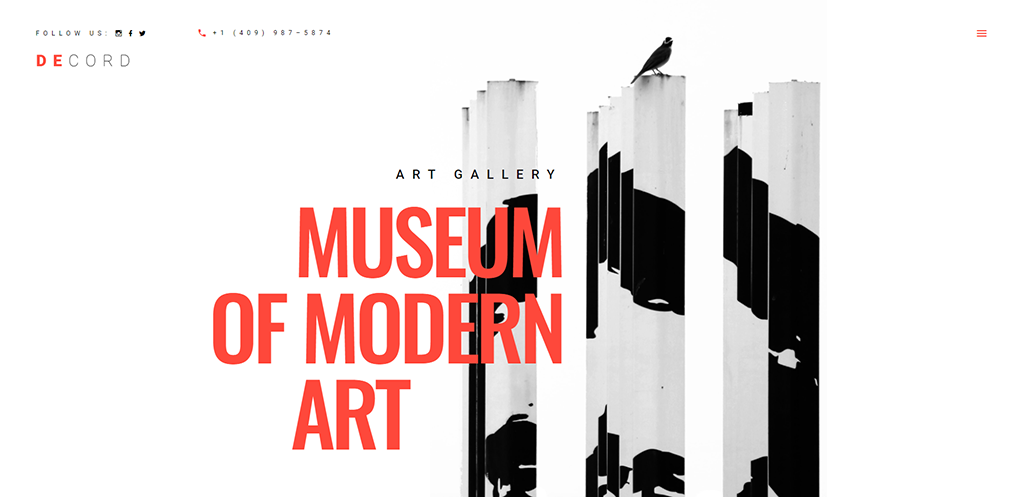 Decord – HTML Art Gallery Template
From corporate designs to creativity, the HTML side of web development has a lot to offer. However, different people are often looking for diverse solutions among the best HTML5 themes. This is especially true if we talk about fine art. Do you own an art gallery or museum? Maybe you want to build a creative website that is also noticeable? In both cases, the Decord HTML5 website template is ready to provide you with anything necessary. It features a variety of pre-designed pages and a rich UI kit for deeper customization.
This HTML5 template offers a minimalistic design with a fitting layout for an art gallery. Its home page provides dedicated sections for featured art. Events, news, and reviews can also be easily described with Decord. The diverse functionality adds a lot to a sharp yet smooth design. With its configurable forms, you can stay in touch with your website visitors. The multiple pre-developed pages are good for describing your gallery and your team. With 4 gallery layouts, you'll be sure to find enough space for all your art. And a wide range of elements and components are great for customizing your site the way you want.
The Best HTML5 Themes: Conclusion
We hope this review of the best HTML5 themes has helped you to decide how you want to see your website. There's a wide variety of templates and landing pages being developed regularly. However, choosing a specific HTML solution is entirely up to you. These templates can be your first step towards a new spectacular website. And when you feel in need of additional advice, we will be ready to help.
For more solutions like the ones we mentioned, feel free to visit our website. You can also find more templates from Zemez in our template portfolio. For more guides and recommendations, we invite you to check out our other posts. In our blog, you can learn more about various social commerce trends. Our new WordPress themes and HTML templates are also regularly reviewed in the blog. And if you wish to get news and updates via social networks, our pages on Instagram and Facebook are always open to you. Whatever your goal in web development and online marketing is, Zemez will be glad to help you achieve it.