If you've ever had anything to do with managing a server or looking after websites on a server and running applications, then chances are you'll have run into cPanel somewhere along the way (and likewise, if you sell or resell hosting or if you pay for a hosting service.) If you've ever had the chance to use Plesk and WordPress together then you may have got to play with the Plesk WordPress Toolkit, a bundle of useful tools which help you to stay on top of the galaxy of tasks that come with running your WordPress site(s).

We first took a look at the Plesk WordPress Toolkit a while back, in 2018, but the Plesk team has been toiling away the background ever since making improvements to it, and the culmination of their efforts is version 4.4. So, we're going to take a look at everything that is new about Plesk WordPress Toolkit 4.4, and we're also going to take a peek at what's coming along this year too.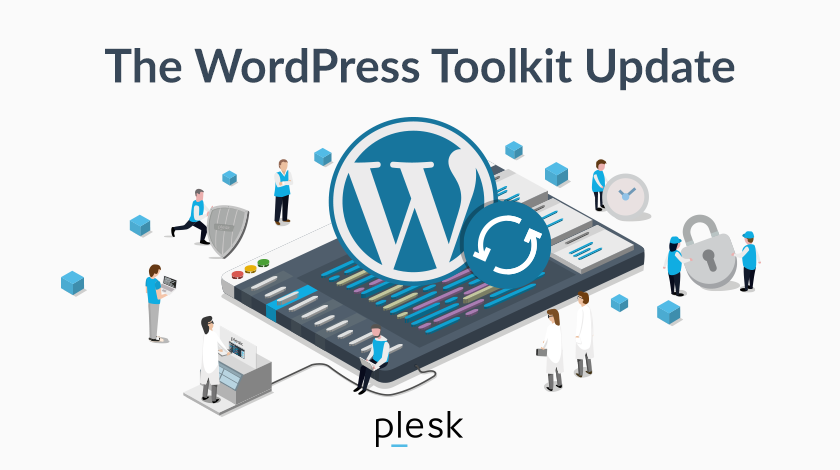 We'll be looking at the new features on offer in Plesk WordPress Toolkit 4.4, but if you're not altogether familiar with either of them then here's a quick rundown of what they do.
Plesk is a hosting control panel, which is a feature set that your web host will often provide, but if you've set up your own hosting or reseller hosting, you're likely to have had to buy and install a control panel yourself.
WordPress Toolkit helps you manage WordPress actions from within Plesk. Things like:

installing WordPress
handling themes and plugins
controlling basic settings, like whether or not to index a site in Google
smart updates (which can make a cloned version of the site to use as a testbed)
creating staging sites
site backups
making batches of extensions to speed up plugin installations
To learn more, take a look at our full post on the Plesk WordPress Toolkit.
New features in Plesk WordPress Toolkit 4.4
Although the UI remains largely unchanged, the Plesk team have laid the groundwork for some exciting future updates and improved the performance too. WordPress Toolkit doesn't use any general Plesk front-end code anymore, which means that the interface should feel more responsive, more consistent, and just quicker as you go about using it.
The team have also made a few small visual improvements too. The Plugins, Themes, and Sets tabs, along with the WordPress Toolkit Setting screen use the Plesk UI Library now.
On top of this, the Settings tab is no longer a settings tab—it's morphed into a separate settings screen that is accessible via a new Settings link.
You Can now Install "Sets" on Existing WordPress Sites
What are 'sets' you may be wondering? They're a bunch of extensions (plugins and/or themes) that you install when you create a new WordPress site.
For example, you might have installed a selection of the popular plugins on all your sites. They are helpful with things like SEO, caching, security, social media, and a contact form. And if you're a reseller there might be certain plugins that you want to promote on user sites.
Plesk WordPress Toolkit 4.4 now lets you install and bulk install sets on sites. You just need to check a box for each one you'd like to add. After, it will do the rest. So, if you'd like to add some new plugins to a lot of your existing WordPress sites, include them in a "set" and bulk install them. This will save you a lot of time.
Change to Action Notifications Behaviour
For every action you perform in Plesk WordPress Toolkit—such as when you switch a site to Production mode—Plesk WordPress Toolkit notifies you that it's happened, but with the 4.4 version, the notifications behave a little differently.
Now, actions that were executed successfully (you'll see they have a green checkmark) close themselves after three seconds so that the interface is kept cleaner and you don't need to do waste any time decluttering.
Error and warning messages will still behave just as they did before because sometimes convenience is counter-productive! If a warning is nagging you then Plesk thinks it's better that you pay attention to it, so it's harder to let it slip by unnoticed.
WordPress Toolkit 4.5 and its Successors
WordPress Toolkit 4.4 is not the last stop on the journey. It will continue to evolve, and so long as there's a WordPress, the Plesk team will keep on improving it.
A notable change made possible by separating the WordPress Toolkit out from Plesk is that it will soon find its way into cPanel, too.
If you haven't heard of it before, cPanel is a widely used web hosting dashboard. It's also most often used by providers of budget shared hosting.
The company that owns Plesk, Oakley Capital picked up cPanel too in 2018, which means that these former competitors are now on the same team. It also means that WordPress Toolkit will soon be available on both dashboards in the near future.
At the moment, cPanel does not offer much in the way of useful tools to help you take care of WordPress sites. You see, this will be a real boost. It's going to be interesting to see how this plays out, and whether any of the cheap WordPress hosts offering cPanel start giving their customers the WordPress Toolkit too.
The Plesk team has set its sights firmly on rolling out additional improvements with WordPress Toolkit 4.5. So, the future is looking bright!
Plesk WordPress Toolkit 4.4—Final Thoughts
Plesk WordPress Toolkit makes site management a lot easier, so if you'd like to host sites for yourself or your clients it's going to be the ideal tool for making the most effective use of your time.
With WordPress Toolkit for cPanel around the corner, it won't be a surprise if we start seeing a lot more of it during 2020. If you'd like to know more about WordPress Toolkit and the exciting new features on offer in version 4.4, click the button.