We have developed and offered you the best WordPress magazine themes 2020. These themes are suitable for news portals, technical blogs, gaming sites, fashion, gossip and any other niche. All listed WordPress themes premium with perfect design, advanced functionality and settings. Above all, each aspect of these themes, such as color schemes, typography, background layout, can be changed using simple but powerful theme options. We tried to make the best-selling themes for you and are design for success.

All of these new layouts are flexible and easily customizable in the external interface using the Element builder. Moreover, the WordPress magazine blog themes come with features specifically designed to attract more readers to your pages. Website templates have a modern look and create a lasting impression. Also, you can simply drag and drop, place and place elements on the external interface of your website and set the desired row size and column numbers.
Kustrix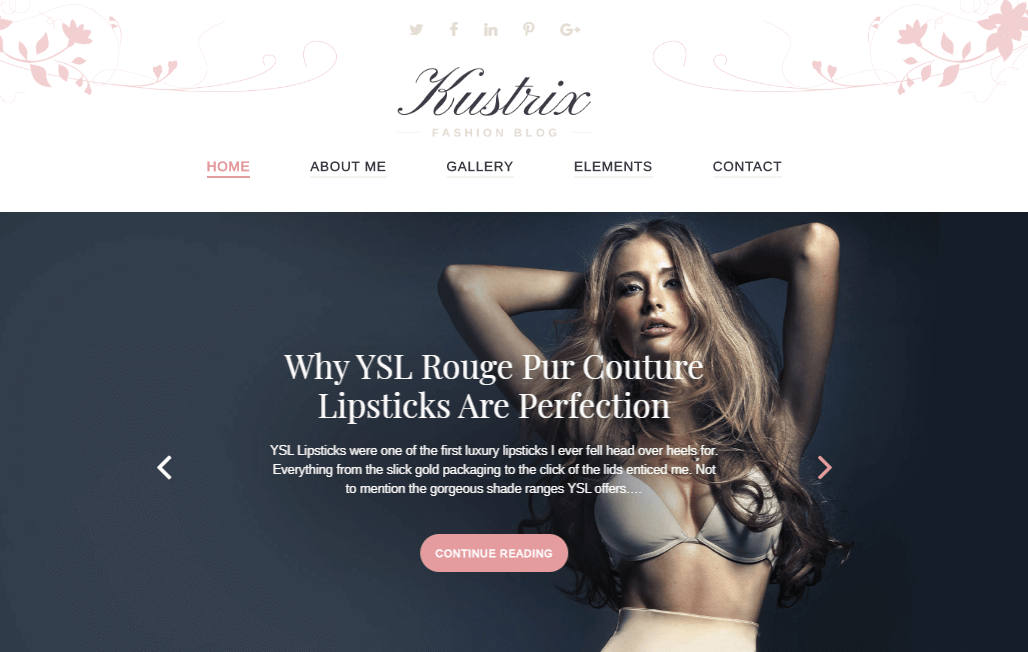 Kustrix is a comprehensive best WordPress magazine theme. Above all, Elementor makes page building in WordPress fast and easy. User-friendly and straightforward drag and drop editor coupled with premium templates, blocks, elements, and extensions – all you need to create a website. This theme allows you to enhance your brand by giving you unlimited font and color options. There are also options to download your logo and badges according to your branding requirements.
Moreover, sites with complex and interesting layouts usually have to sacrifice their mobile capabilities. But, this product is adaptive, as it promises to look great on both computers and mobile devices. Sticky sidebars for most content disclosure, lots of unique, customizable widgets to make your website content truly stand out from the package.
Pay attention to additional functions of Kustrix:

Advance theme options;
Back to top button;
Crossbrowser compatibility;
Custom page templates;
Pinterest board.
4News Best WordPress Magazine theme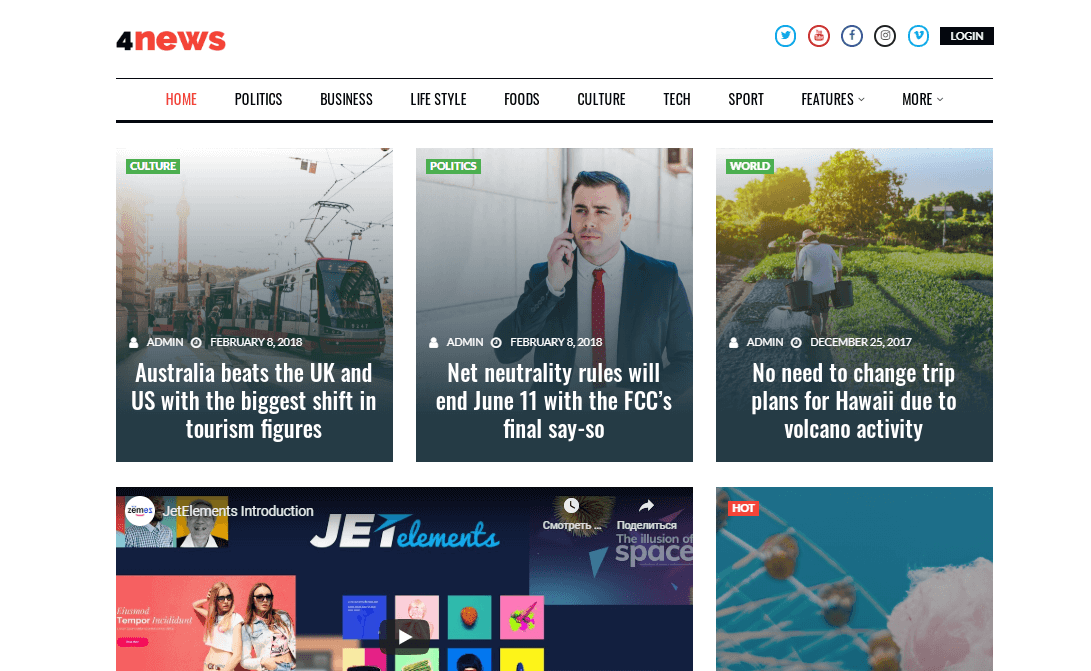 4News is the resourceful and responsive multi-purpose WordPress magazine themes premium website. Also, with 4News design and setup are effortless. The theme was created using the Elementor page builder, which will make your content attractive and individual. Stunning slide shows and storefronts put your best content in front and center.
Also, thanks to the advanced settings of the admin panel, you can instantly turn your logs inside out. An integrated review system allows you to create special reviews for any product. Create endless custom fields and rate products or items in several ways. In addition, awesome navigation is possible with multi-page articles. They instantly increase your ad revenue and keep your pages dynamic. Responsive and well suited to appeal to users on different platforms and devices.
Pay attention to some of the main features of 4News theme:
Dropdown menu;
Favicon;
MailChimp ready templates;
Google map;
Sidebar manager.
NEWSmaker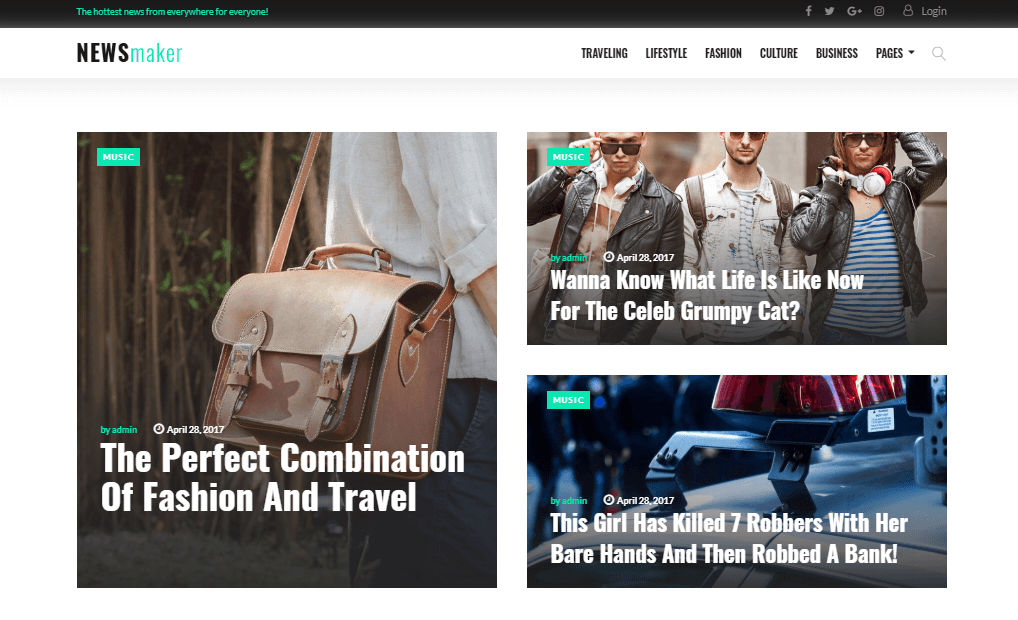 NEWSmaker is a stylish theme for business sites. Thanks to the smart constructor Elementor and its premium add-ons, you can freely choose any widgets from its wide collection. In addition, it has parallax scrolling, which gives an excellent 3D effect. In addition, it includes social network icons to link it to your other pages and increase traffic flow. The author's field at the end of the message allows you to increase the profile of your members.
Entrepreneurship allows you to create massive menus for your site by providing categories and other options for your content. In addition, you can easily switch between unlimited colors using the color picker. You can have as many sidebars as you want and place them where you want.
NEWSmaker is very readable, and thanks to the many options for fonts and typography, you can adapt it to your style. You can also create your own themes based on the best WordPress magazine themes 2020 with built-in support. It is ready for translation and has support from right to left, so it is easy to read to anyone on the planet.
Pay attention to some of the main features of NEWSmaker theme:
Crossbrowser compatibility;
Dropdown menu;
Live Search;
Media library;
Related Post.
Viral News Best WordPress Magazine theme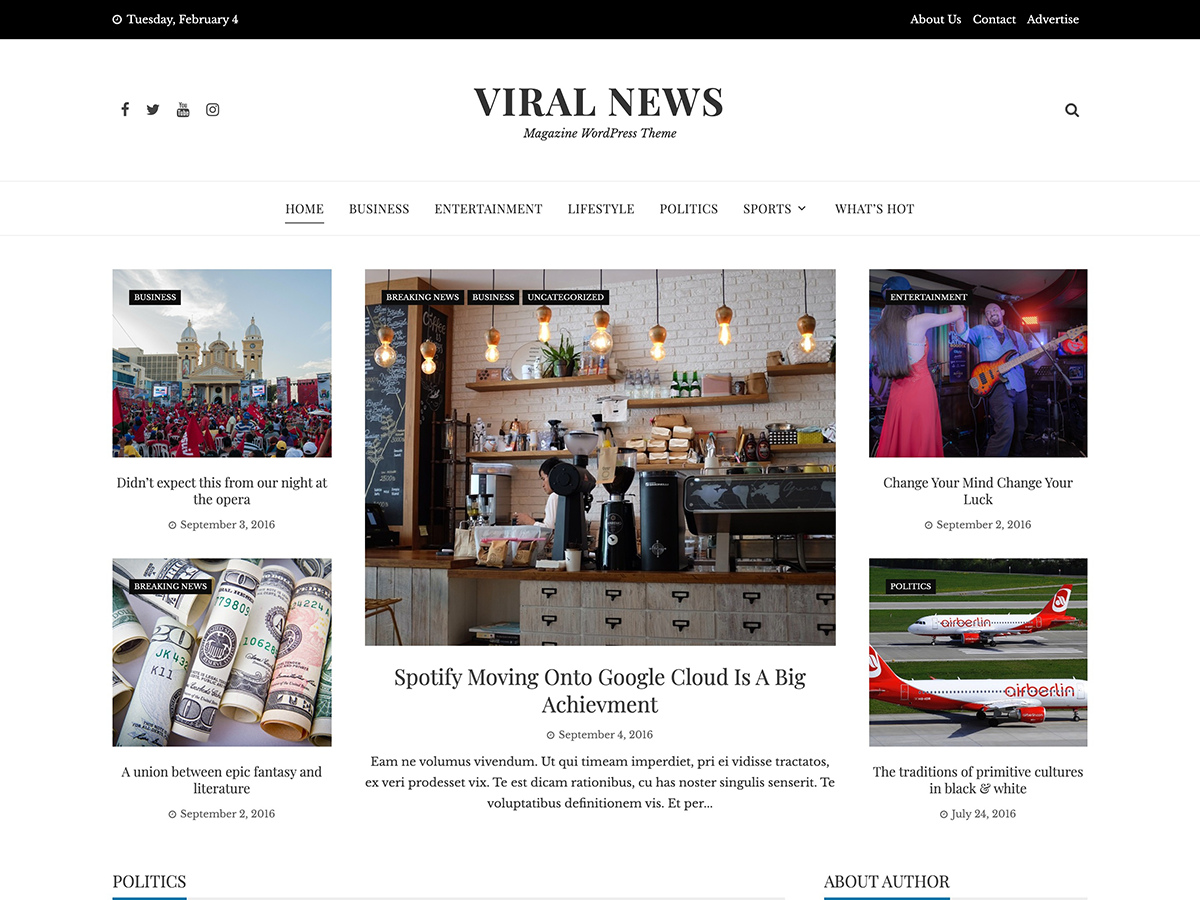 Viral News is a powerful WordPress theme to build attractive online magazines and newspapers. It comes with 6 pre available demo that can be imported and installed to your website in a single click. Also, the theme has tons of possibilities to design the website beyond your imagination.
Viral News is a flexible magazine template for WordPress with 10 different block layouts. You can use these layouts to add unlimited news section on your website. Also, the theme provides you an advanced option to pick the most favorable color and typography for your online new portal.
Pay attention to some of the main features of Viral News:
6 Ready to Import Demo
10 Block Layouts
Drag and Drop Reorder
Advanced Typography Option
Primary Color Option
ChampionNews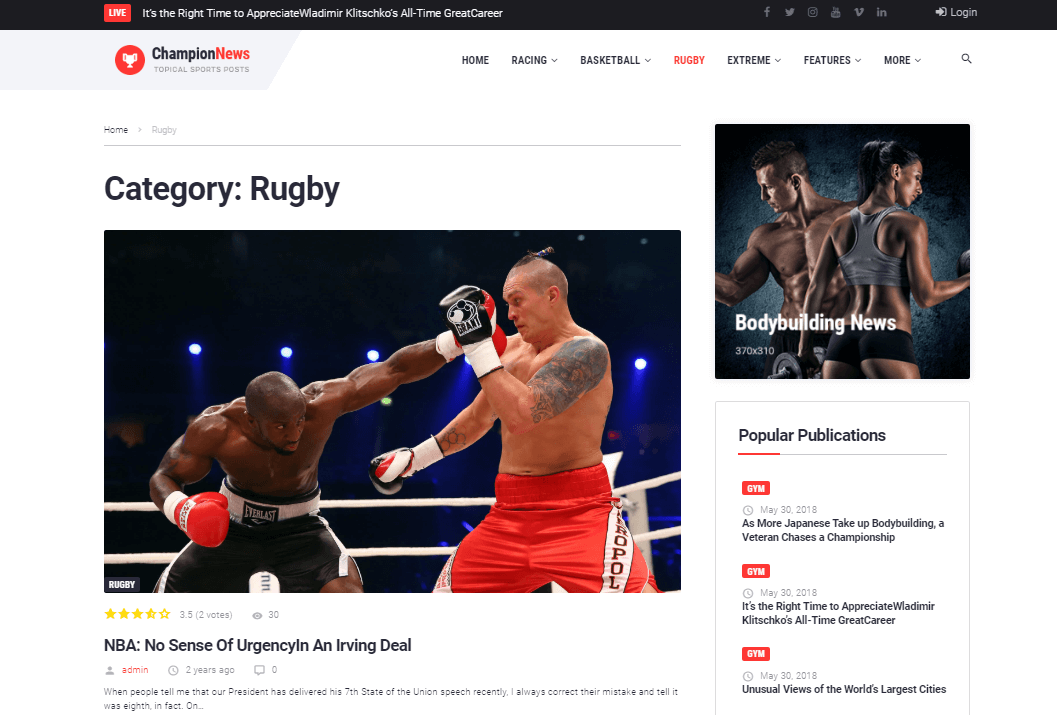 Next-generation intelligent features give ChampionNews an edge. The creators added built-in functions for plugins and widgets, and they optimized it for search engines and works very quickly. WordPress magazine themes premium also looks smooth and silky with high-definition graphics and has a well-thought-out theme organization. It is focused on content, so it is ideal for websites with a lot of different content, such as sites with blogs or articles, which it organizes well in various categories.
Its location is clear and responsive, which makes navigation enjoyable. This is ideal now that more and more people are using tablets and smartphones. Tabbed page layout makes it very easy to navigate. ChampionNews has many sections that give you options for displaying your content. You can add reviews and badges. The only limitations are the limits of your imagination.
Check the important features of ChampionNews out:
Calendar;
Commenting system;
Twitter feed;
Sample content;
Social options.
BlazingNews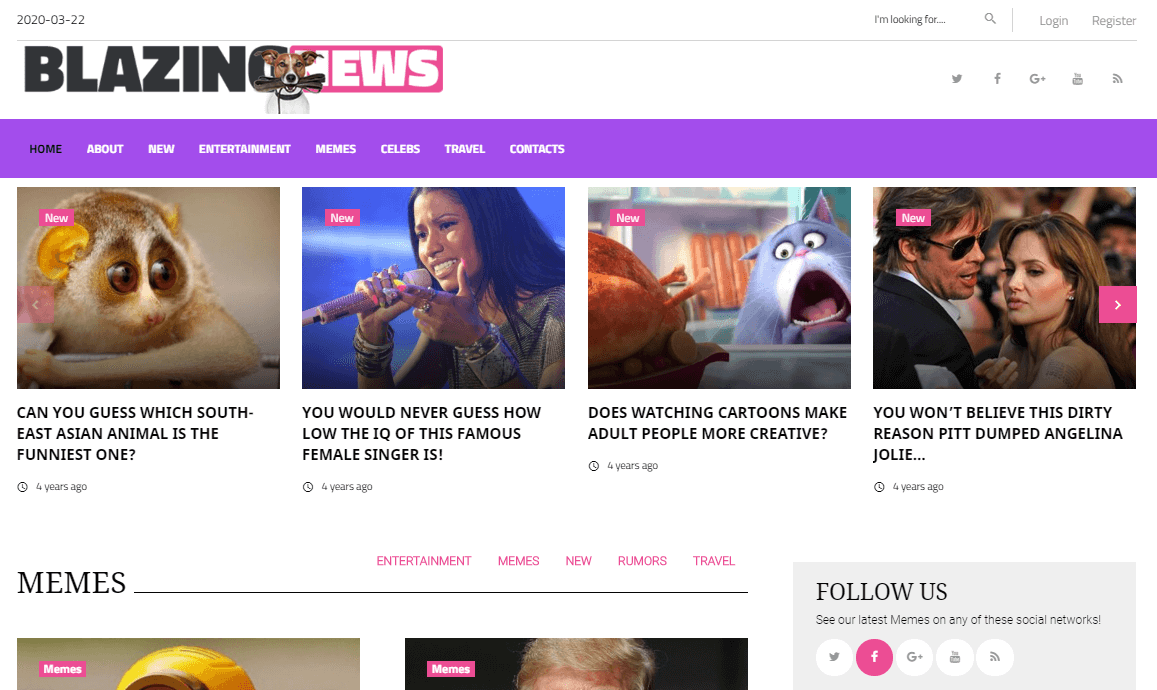 BlazingNews is a modern, technically savvy, interactive, and meticulously designed WordPress magazine blog theme. It is well suited for some different purposes, especially for websites that require the transfer of visually heavy content to a mass audience. Thus, they created BlazingNews to be well suited for the design and creation of news and magazine sites. Best WordPress magazine themes are sophisticated and elegant, at the same time responsive and light on legs, easily adaptable from device to device and across browsers and platforms. It is uniquely suited to get your readers involved and interested in your content without being distracted by letting them stray from all of your content.
The theme is built thanks to the Elementor builder page and its settings. They allow you to fully personalize the look of your site with several color schemes and many parameters to make your magazine unique and carefully thought out. This theme includes awesome widgeted home pages with assets such as interactive favorite product headers or footers, layout options for your message, including grid and list styles, and powerful categorization features. Organize your content for the convenience of your readers and intrigue them so that they return to more of your published material.
Check the important features of BlazingNews out:
Sidebar manager;
Media library;
Google map;
Favicon;
Commenting compatibility.