A live chat window is a multi-faceted tool that you see on most websites. One of the major advantages of this is that you can quickly resolve queries from your customers as well as guest users. While contributing to the instant resolution of customer issues, it also helps you capture qualified leads effectively. Now, if you have a WordPress site, you can find several plugins and SaaS-based solutions to help you set up a chat window. Since there are a lot of good options out there, it might be a little tough for you to choose the best one. In this article, we will discuss some of the best free WordPress live chat plugins that will help you enhance customer interactions.

If you are looking for a cost-effective solution to integrate a live chat window on your site, this is the go-to plugin. It helps you monitor visitors on your site, and chat with them effectively. More importantly, this free plugin does not have ads or other spammy marketing strategies. It will help you maintain a seamless connection with your customers and gain accessible leads by monitoring visitor information.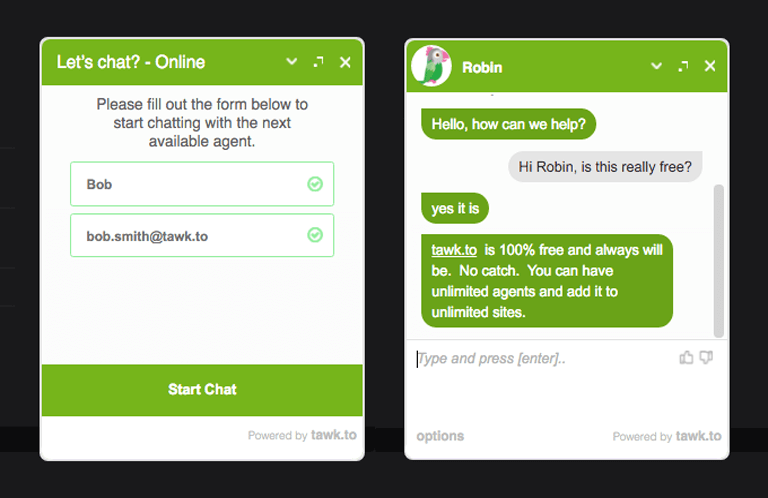 Tawk.To offers mobile apps for Android and iOS so that you can interact with your customers easily from your mobile phone as well. It has a user-friendly interface and you will be able to access information from multiple websites and support agents. You will also get round-the-clock support from their team, which is a rare aspect of a free tool. Tawk.to live chat will be a great addition to your website to help you enhance the customer experience as well as conversion rate.
If maintaining solid customer relationships is your goal, this comprehensive marketing tool can be a great help for you. It offers a live chat option along with a set of other useful features in its free version. The other popular features include lead capture forms, opt-in popups, and an integrated contact database. You can easily set up this plugin without any help from coding experts even if you are a beginner of WordPress. The plugin will automatically capture all the contact form submissions on your site, even those from third-party tools. You will be able to use this plugin to grow your email list, manage contacts and send marketing emails effectively.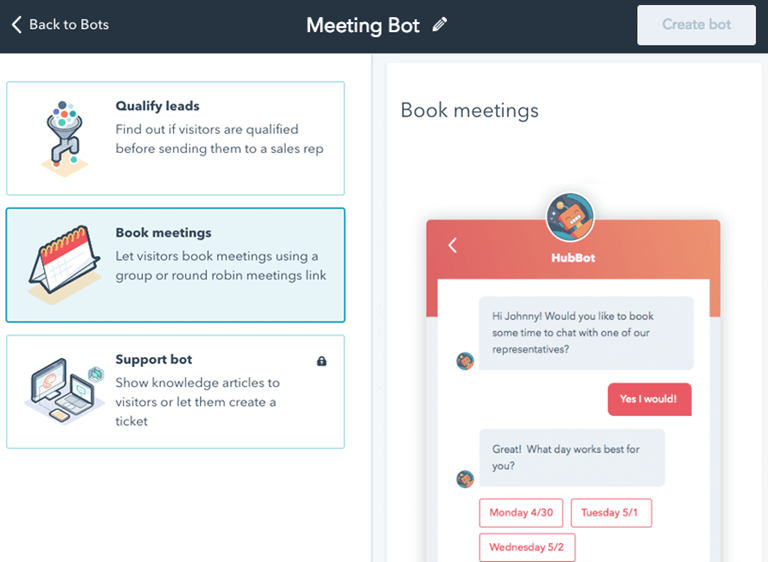 Configuring this plugin is especially easy and you will be able to manage varied settings with considerable ease. You can use the free live chat option for dealing with customer issues as well as resolving pre-sale queries. It also offers an option to automate the chat response when your agents are not online. There are four different types of forms available with the plugin including inline forms, overlay modals, top banners, and slide-in boxes. Moreover, it supports other popular form builders such as Ninja Forms, Gravity Forms, Contact Form 7, etc.

Overall, this plugin will help you as an integrated CRM solution with email automation and built-in analytics.
Tidio will help you communicate with your customers effectively using a chat window. In addition, you will be able to make use of chatbots to make the chat available round the clock and also to capture leads. The plugin is quite easy to install and configure, so even WordPress beginners can take full advantage of it. One of the useful features of this plugin is that you can monitor visitors on your site and contact them at the appropriate time to improve conversions.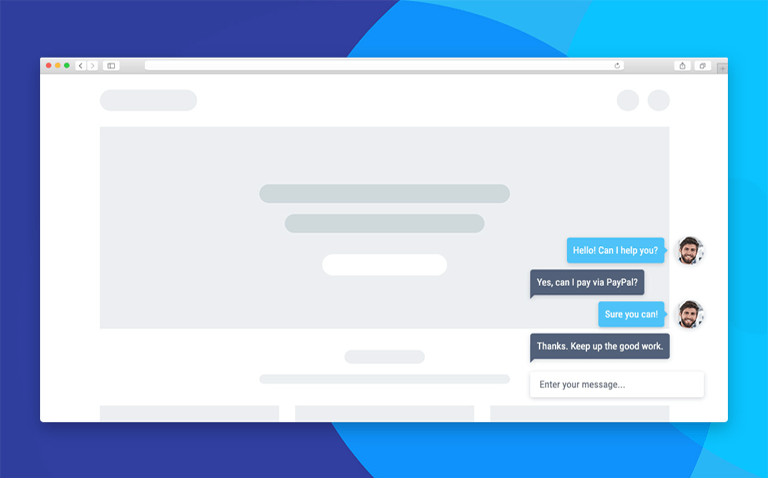 The plugin offers great options to customize the chat widget according to your brand design standards. It offers 21 pre-translated languages and supports 183 languages. When you are offline, you can display a contact form so that customers will still be able to initiate a conversation with you. Overall, this is another good option to create exceptional customer service for your business.
In the WordPress repository, this is one of the popular options to set up a live chat window. It will help you integrate a chat window that will help you communicate effectively with your site visitors and enhance conversions. The plugin is free and you can create unlimited support agent profiles to interact with customers. Moreover, this plugin offers a chance for support agents to interact internally to find better resolutions to customer queries.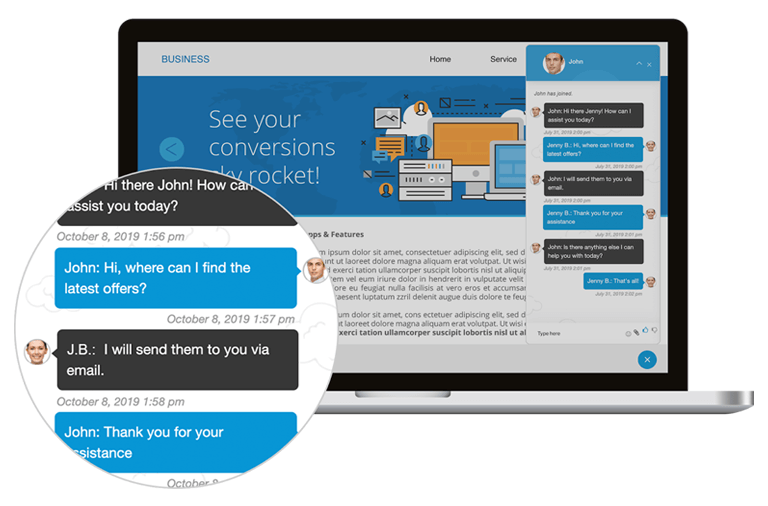 You will be able to make an organized support team spread across different departments and agents using this plugin. The plugin allows you to extensively customize the chat window with even animations and other visual effects. It also helps you set up user behavior-based triggers to initiate a conversation. The plugin has quality reporting features as well and will be a useful addition to your quest to improve conversions and customer experience.
JivoChat is an omnichannel customer support solution that will help you set up a live chat window, Facebook Messenger, and phone option for your customers. You can add a live chat window on your website easily with this plugin. Along with that, you will be able to get a professional phone line in over 50 countries, which is something unique. It also offers a Facebook Messenger option to interact with customers who prefer the social media route.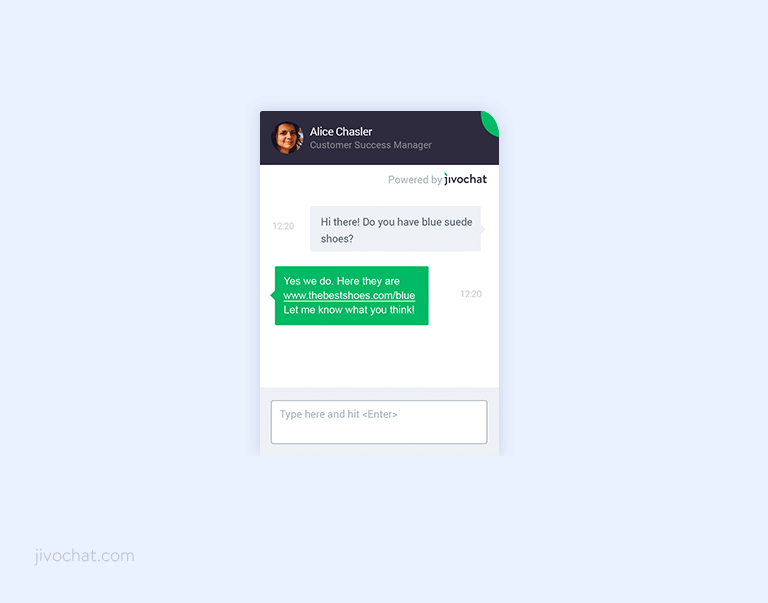 Another interesting feature of this plugin is that it allows the participation of multiple agents in one chat window to resolve customer issues quickly. Like some of the other tools, you will be able to monitor your visitors and proactively initiate chat to maximize conversions. With features like automatic translation, typing insights, and canned responses, this is one of the feature-rich options out there.
With the help of this free plugin, you will be able to offer live chat support to your customers using Facebook Messenger. As a large number of people are signed in to Facebook Messenger, it will be a preferred medium to offer quick support for your customers. The plugin will help save chat history on your end as well as on the customer's end. To be able to use the advanced features of Zotabox, you will have to sign up for their premium plans.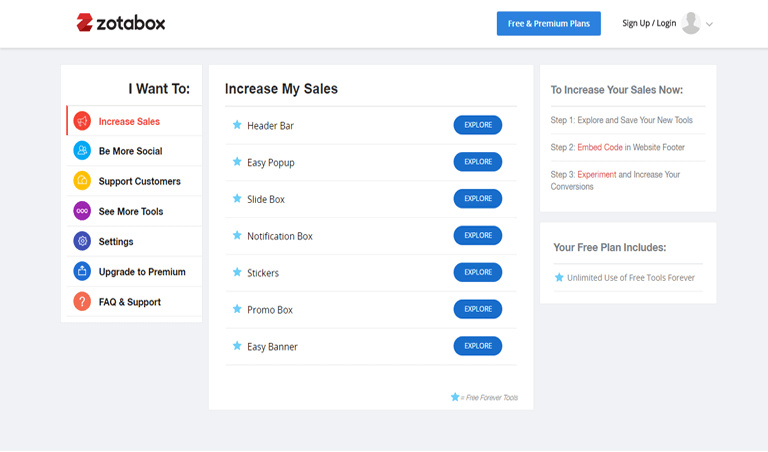 Some of the added features of the paid plans include push notifications, contact form builder, CRM integration, social reviews, etc.
This is another great option to add a Facebook Messenger chat to your website to interact with your customers. It will help you engage your customers better and also will offer a great platform to create qualified leads. With the help of chatbots, it helps you offer support to your customers even when there are no support agents around.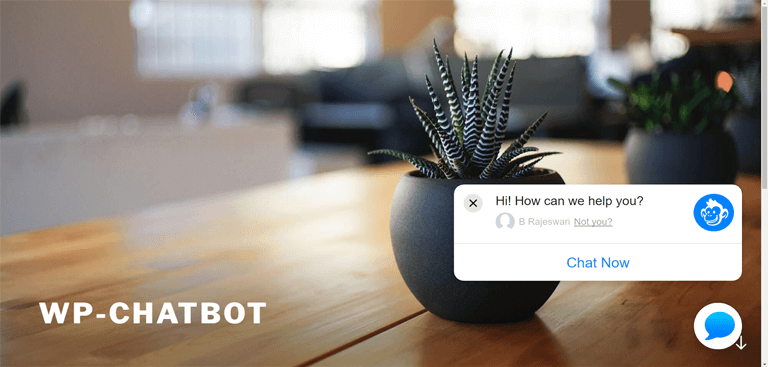 The plugin is quite easy to install and configure even for those who don't have advanced WordPress knowledge. Once you set it up, it offers seamless integration with your Facebook page as well as Messenger. Moreover, it is compatible with a large range of tools in the WordPress ecosystem including WooCommerce.
Overall, this is another good option to create exceptional (chatbot customer service) for your business.
This is a reliable live chat option that you can use on your WordPress website. It helps you manage unlimited chat interactions with your customers. Please note, you will be able to create only three support agent profiles with this plugin. The free plugin offers some advanced features including extensive customization of the chat widget, transcript history, email forms, triggers, etc.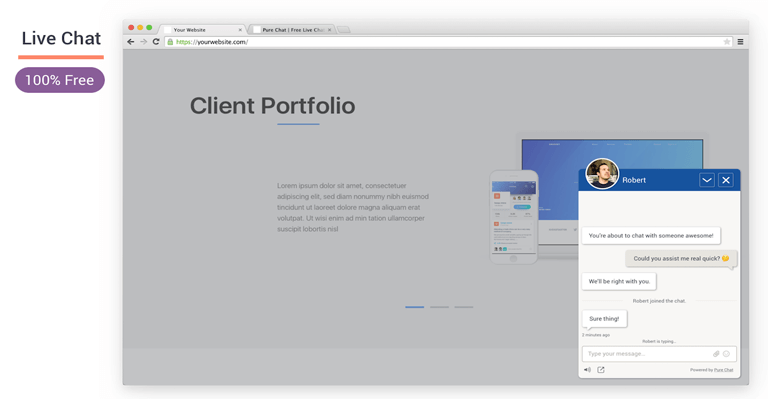 Moreover, it gives you the flexibility to display an indicator or provide an option for customers to email you when you are offline. For more advanced features like unlimited support agent profiles, real-time analytics, etc, you can check out the premium version of this plugin.
This is a live chat plugin that is growing in popularity in the WordPress repository. One of the major advantages of setting up this plugin on your eCommerce store is that it will help your customers resolve queries about a product instantly through the chat window. This will help a lot in improving conversions as timely help from a support agent will surely contribute to quicker purchase decisions.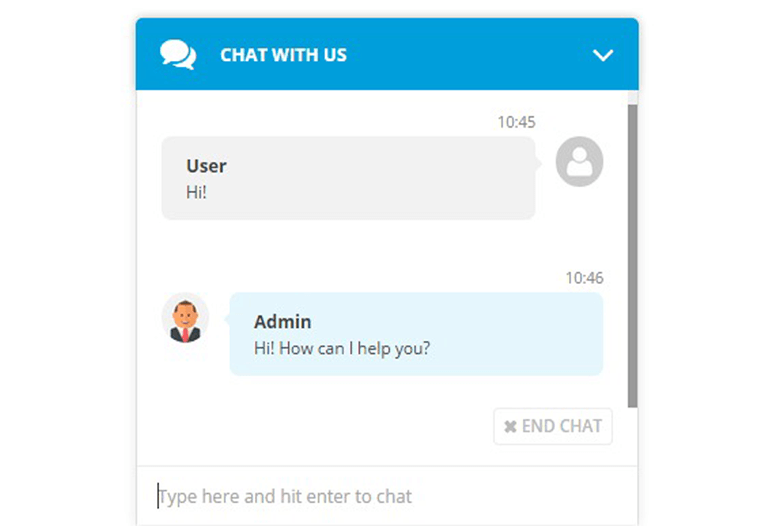 The plugin offers an option to handle multiple user interactions simultaneously. Also, you will be able to customize the chat messages so that users will have a clear idea of whether you are online or not. The chat console offers a good overview that will help you have a clear idea of the ongoing chat interactions on your site. If you are looking for a simple option to integrate a live chat window on your site, this plugin could be a good choice.
Among other SaaS-based live chat plugins, WSChat – WordPress Live Chat Plugin works completely within your WordPress environment with no external dependency. It ensures security and privacy by providing full control over your data and the data can be managed by its exclusive owner by storing data to your own server. This lightweight and handy plugin offers various customization options to make the chat widget perfectly fit into your website theme and design.

Integration of AI with Dialogflow by Google improves customer satisfaction by triggering automatic responses and solutions for customers' queries immediately even if you are not online to get back to them. Easy monitoring and tracking of active visitors on your website will help to reach the customers from your side. There are features that can be added to the chat header in accordance with the requirements such as attaching a file, an option to send the conversation history to an entered email ID, record and send a video, and an option to notify the customer satisfaction with the like and dislike button. If you are using WSDesk – WordPress Helpdesk & Customer Support Ticket System Plugin for your customer support, you can easily integrate it with for importing the agents, converting customer queries into tickets, and much more.
Feature-rich live chat options
When you are experimenting with live chat integration on your WordPress website or WooCommerce store, the above-mentioned options could be useful. However, once your customers and site visitors start using the chat option steadily, you may need more features to organize it. In that scenario, there are several premium, SaaS-based options such as LiveChat, REVE Chat, etc. And if you are looking at a premium WordPress live chat plugin, WSChat could be a great solution.
Hope this article helped you in picking the most suitable one from the best WordPress live chat plugins. Leave a comment if you have a query.
Author bio:
Vijay Chelakkat
Founder | CEO, Elula Tech Private Limited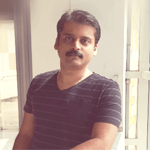 Vijay is the founder of ELEXtensions.com & LearnWoo.com, in charge of Business Development & Marketing. He is passionate about product development and solving various problems that eCommerce customers face. He is a connoisseur of food and likes to travel, go for long drives, and spend time with his family & friends. Follow on Twitter.