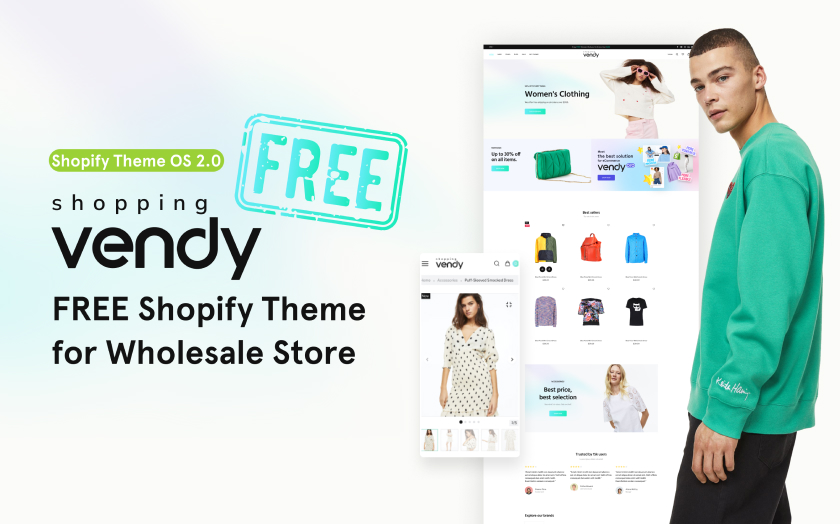 Shopify Themes
Vendy Shopping - Free theme for Online Store 2.0
100% FREE Shopify theme
Based on Shopify Online Store 2.0
Full demo content
Responsive design
SEO friendly
Vendy Shopping - Free theme for Online Store 2.0
Explore Vendy Shopping Store Free Theme for Online Store 2.0 and and enjoy all the templates with demo content, fully based on free widget.
Professional design
A properly designed storefront is crucial for any online store. With the help of our Shopify themes, you get a top-notch design from industry professionals at Zemez. Our quality solutions for the leading eCommerce platform are guaranteed to make your store look impressive and outstanding visually and content-wise.
Premade business template
All Shopify themes developed by our experts are a great fit for any company. From traditional eCommerce solutions to subscription-based stores, every online business can benefit from the multipurpose and ready-made solutions our team provides. With a vast and regularly updated set of features and content-centered layouts, your store can look the way you always wanted.
Self-hosted
Shopify is one of the most popular eCommerce solutions for a reason. It is self-hosted, so you don't have to install additional software to get started. After downloading Shopify, your online store can be ready in just a few minutes. And our themes will provide a matching design and a wide range of functional benefits.
POS solutions
Integrate your online store with a physical shop by using POS solutions and the functionality that Shopify provides. Backed by cutting-edge eCommerce technology, our Shopify themes aim to drastically improve the user experience of your customers. This allows you to handle all transactions in one place and integrate online processes seamlessly with your physical store.
Customize without effort
Being an eCommerce platform that supports customization, Shopify allows you to edit nearly any element of your store. Thanks to the updated Shopify visual builder, you can freely change the looks of your website and make it more attractive to your customers without having to deal with coding.
SEO-optimized theme
Optimizing a store for search engines is highly important for any eCommerce business. That's why we take care of it when working on the next Shopify theme. All our solutions are SEO-optimized. They provide a variety of necessary tools for marketing and promotion of your products on leading search engines and marketplaces as well as social networks.
Check out some similar products