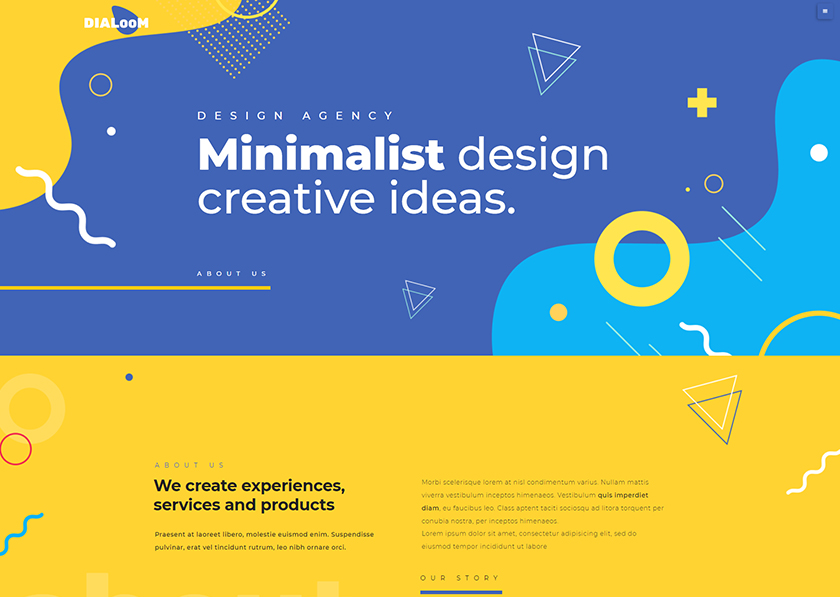 WordPress Themes
Dialoom — Free creative agency WordPress theme
100% FREE WordPress theme
Based on free Elementor builder
Full demo content
GPL v.2.0
RTL-compatible
Dialoom - FREE creative agency WordPress theme includes
Explore Dialoom WordPress theme for Elementor and enjoy all the templates with demo content, fully based on free widget.
Fulfill all your needs
Dialoom is built to become a website of your dreams! All you need for successful promotion is gathered in free creative agency WordPress theme. It's totally ready-to-use and has various sections such as testimonials, contact form, portfolio, accordion widget, and even Google map! Save your time and money with the Dialoom creative agency theme!
SEO-friendly and flexible
Dialoom free theme is designed with the help of such a powerful plugin as Elementor. That's why the process of site-building becomes very easy! All you need to do is just fill the sections with your own content and get a website of your dreams!
Full demo content is provided
The Dialoom creative agency theme includes all the demo content, which you can see on the templates. Image and icons are available as well as the various page layouts. Take a chance and organize your pages in the way you want with the Dialoom WordPress theme.
Time-saving and fast
You don't need to be afraid of the speed loss. With the free creative agency WordPress theme, it doesn't matter how much content you showcase! It will have a high rating in any benchmark, so your website will be as fast as lightning.
GPL v.2.0
The Dialoom WordPress theme for creative agency comes under the GPL v.2.0 license. Your possibilities in copying, transforming and sharing according to the limit terms are really limitless! It means you can use the theme for various projects.
WPML and RTL-friendly
In case you are planning to promote your website worldwide, this feature will be a treasure for you! Once the creative agency WordPress theme free downloads, you can apply the RTL and WPML support , so you can easily make your site multilingual.
Check out some similar products