Hey there! Black Friday Sales 2020 are in full swing. And, we want your sites and web projects to get most of Black Friday and Cyber Monday deals!
So, get comfy, and let's explore what Zemez and our partners have prepared for you. Hurry up to grab hot discounts!
Enjoy Special Black Friday Sales 2020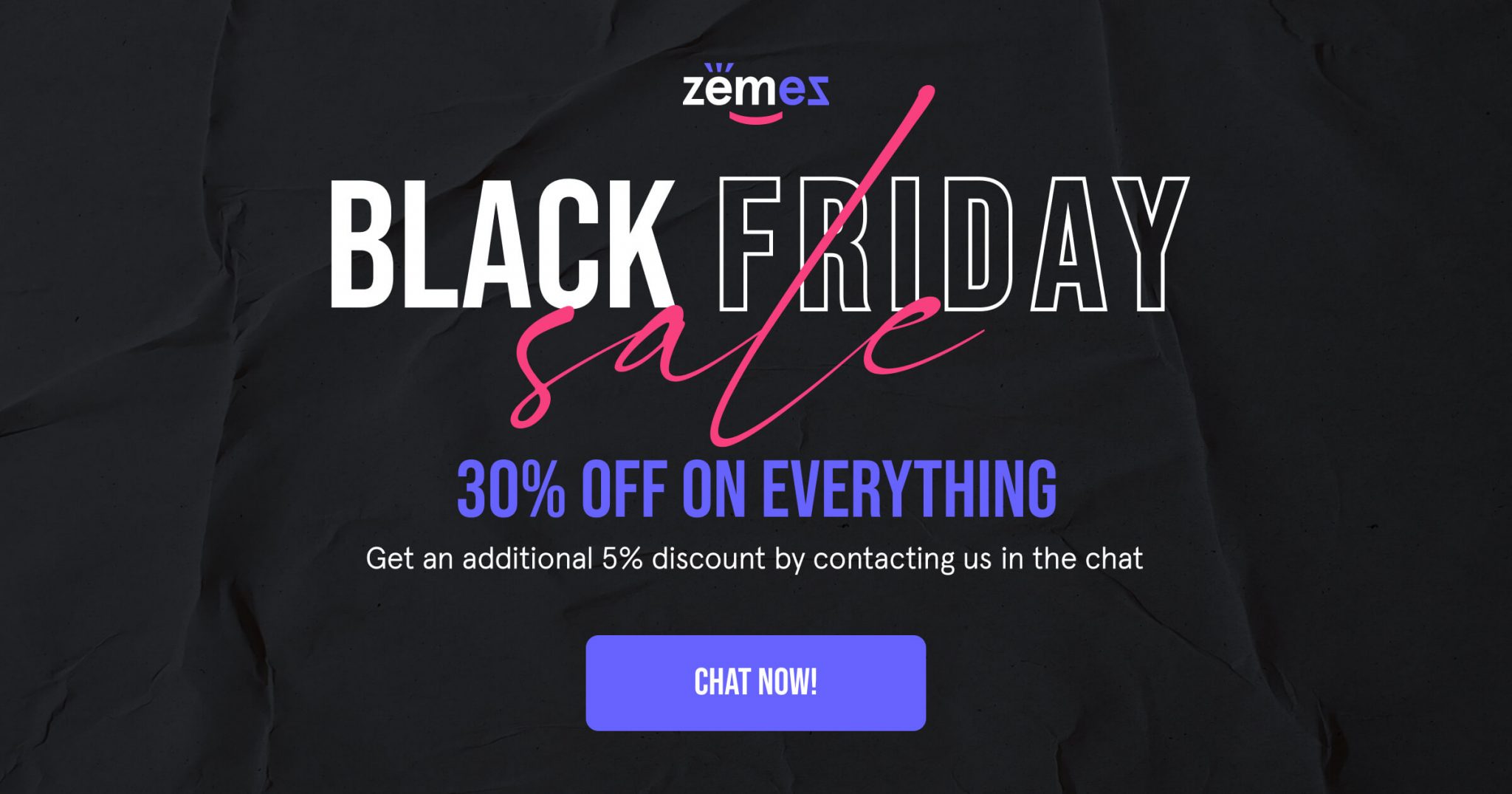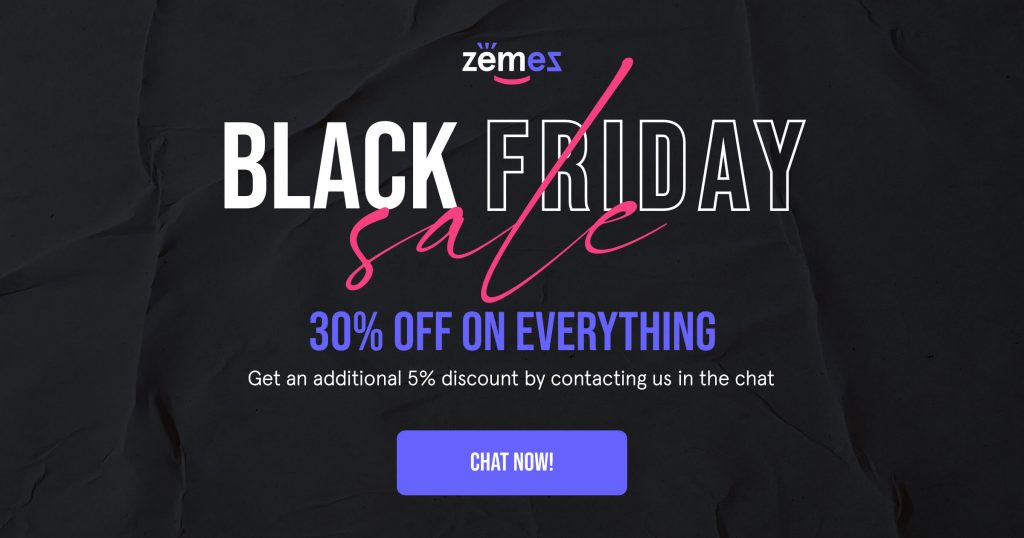 Sale term: 11/20/2020 – 12/2/2020
Discount amount: 30%
No modesty! Be sure that Zemez is your WordPress and eCommerce themes best choice.
Every time you are about to start a new website or online store, rely on us. Every time you look for out of the box solutions, choose us! Plus, we provide varied useful Elementor kits and unique services.
Moreover, everything that goes under our logo is licensed and backed with amicable technical support. Buying our items you'll be backed by experienced technical specialists 24/7.
In regards to Black Friday 2020 and Cyber Monday, it's the time for the most favorable prices. We know that some of you've been waiting for it the whole year. Therefore, now we invite you to the biggest shopping spree.
Well, how does it work? You can choose any of our products for a 30% discount. As well, there is a guarantee to get an additional 5% rebate by contacting us in a chat.
So, find what is best for you on the Zemez.io website!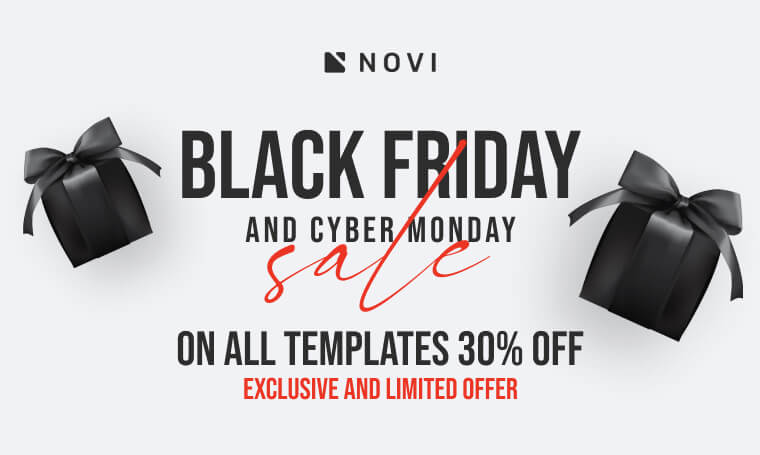 Sale term: 11/20/2020 – 12/2/2020
Discount amount: 30%
If you've ever worked with HTML templates, you probably know that it's quite difficult. Although they are very attractive and versatile, these templates require a certain level of coding skills. But things have changed radically due to the handy drag-n-drop Novi Builder.
Luckily, for everyone who prefers HTML, there are burning Black Friday sales 2020. In other words, visit NoviBuilder.com to gain a burning 30% off on all templates!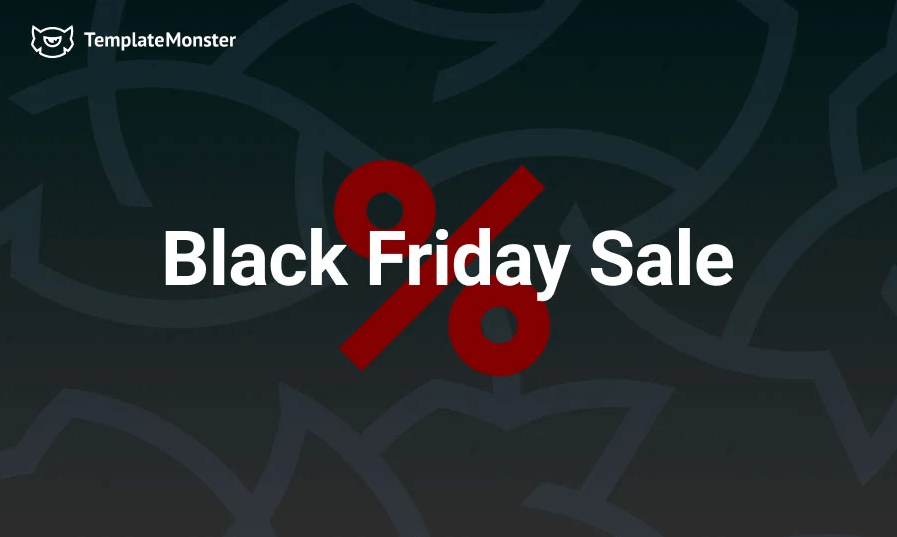 Sale term: 11/20/2020 – 12/02/2020
Discount amount: up to 70%
Hey, here is an exclusive opportunity for your multiple web projects! One of the biggest marketplaces of digital products is ready to follow your wishes. So, seize your hot discount by TemplateMonster & ONE!
To make it clear, TemplateMonster reduces the price of all retail items by up to 70% off. All the rebates are attached to best-sellers and fresh releases basing their product types. Moreover, TemplateMonster provides a huge number of everything for your site, store, presentation, and others. There you can purchase web themes, graphics, audio, video files, etc.
Plus, don't miss an up to 40% discount on ONE by TemplateMonster subscription plans. During 11/20/2020 – 12/02/2020, your Black Friday 2020 savings on ONE will depend on the plan that you've chosen:
Yearly subscription – 30% off – get for $159 instead of $229
Lifetime subscription – 41% – $499 instead of the regular price of $849
Creative subscription – 22% off – $69 instead of $89
Yet, there even more perks by TemplateMonster. It offers you an extremely low cost for services by 40%. Make your choice!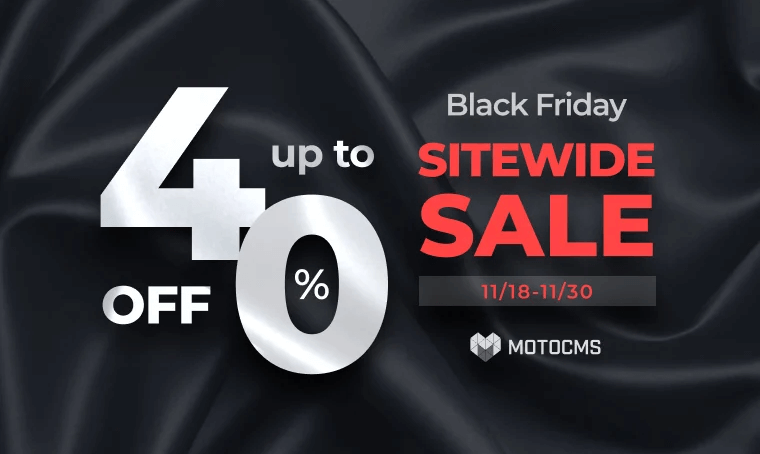 Sale term: 11/18/2020 – 11/30/2020
Discount amount: up to 40%
Create a website with MotoCMS today choosing their products under an up to 40% discount! This world-class web design agency cuts prices for its high-quality site designs, subscription plans, and even services.
Just imagine, while Black Friday sales 2020, with the 40% discount, you can get a powerful website. Moreover, it will be supplied with all the necessary tools. So, discover the hottest offer of the year by MotoCMS yourself!
Sale term: 11/24/2020 – 12/2/2020
Discount amount: up to 40%
Promocode: CrocoBF2020
Do you like Elementor add-ons that are best known as Jet widgets? With JetPlugins, anyone can build dynamic websites of any complexity, create online stores, and master web design. Above all, you shouldn't be tech-savvy to this.
So, only now, due to Black Friday sales 2020, you can save lots of money upgrading your WordPress site! Accordingly, Crocoblock cuts prices up to 40% off on JetPlugins, Yearly, and Lifetime sets. More than this, the proposition is also available for set upgrades. Just pay the difference between your current plan and the one you want. Then, activate the discount and enjoy the best price for the Crocoblock toolkit! In addition, you are always welcome to get professional support from Crocoblock.
Don't miss the deal of the year!