The previous years showed us how important and even essential is a digital world and online shopping. Especially if we are talking about the medical sphere, we realize the value of various online stores on the Internet and a high-quality delivery with keeping a distance. Building such a website you need a reliable base for it, so we have a stunning variant. Take a look at the CoronaV medical supplies eCommerce template.
In this post, we will review the CoronaV PrestaShop theme, discover the advantages of using it and peek under the hood to be aware of all the major features. Also, we keep in mind the relevance of theme design, so let's not waste time and get started on it.
Premium Coronavirus PrestaShop theme
In case, you don't have close relationships with PrestaShop themes, then it's time to do it. Let's check all the options and possibilities you get purchasing a medical supplies eCommerce template CoronaV.
CoronaV theme is the ready-to-use solution to make the future website perform successfully and keep up-to-date. So, what's PrestaShop at all?
It's an open-source eCommerce platform, that perfectly suits small businesses, and can equip it with more than 310 options for creating a functional online store. It doesn't matter from which country you are and what language you speak, because PrestaShop is multilingual and includes almost any language. Surely, to build a high-quality website, it's necessary to use various add-ons to boost the functionality and PrestaShop took care of it. That's why our CoronaV medical supplies eCommerce template comes with a package of additional modules.
Then, speaking about the process of installing, Sample Data Installer goes into the battle. Such type of tools allows you to install the theme short and sweet. Just a few clicks and you are ready to meet a CoronaV on your desktop. Also, automatic uploading of the content and settings is available.
One of the significant advantages of this PrestaShop theme is that it comes with a Visual Composer website builder, that is able to make all the work instead of you. This tool surely lets you make the ideas real and change templates in line with your preferences and demands. Display custom content on a layout you want by means of HTML blocks, banners, video, etc. Breathtaking opportunities are waiting for you.
Get 10+ Premium Modules For Medical Supplies eCommerce Template
As we have already said, increasing the functionality of the website is a mission of additional modules. To learn more and get a detailed view of each of them. Here you can see a list of the included premium modules to the CoronaV medical supplies eCommerce template:
Use this module to build Mega menus with different structures, and create free access to the website pages for your customers. Vary a menu with a diversity of blocks, links, banners, and buttons.
Make your online store helpful for users and add a product search. It will let the customers pick up products easily and save time.
It's important to introduce a manufacturer of each product in the product list. It can be displayed with the names and logos simultaneously.
This module is a great solution for daily deals to be promoted on your website. Showcase a countdown timer that will tell each user when the offer expires.
Showcase the whole list of products via this module. You can choose if the items will be displayed in a slideshow or rollover.
Gain more clients writing posts and sharing your experience in the posts on your Blog page.
What an online shop without a wishlist? Please your customers with such an option that allows adding your favorite products to the wishlist.
Don't know which product to choose? Compare module will help in a minute. Compare as many products as you need and cherry-pick the best one.
Moreover, this list isn't full, so the medical supplies eCommerce template CoronaV has a lot to show.
Chery-pick the Most Suitable Skin From the Collection
Additionally, by purchasing the CoronaV medical supplies eCommerce template you get a collection of pre-designed skins. Each of them is connected with the medical sphere which is extremely valuable today and demands more attention. Today there are 7 templates on board and all of them can be yours, just after buying only one PrestaShop theme.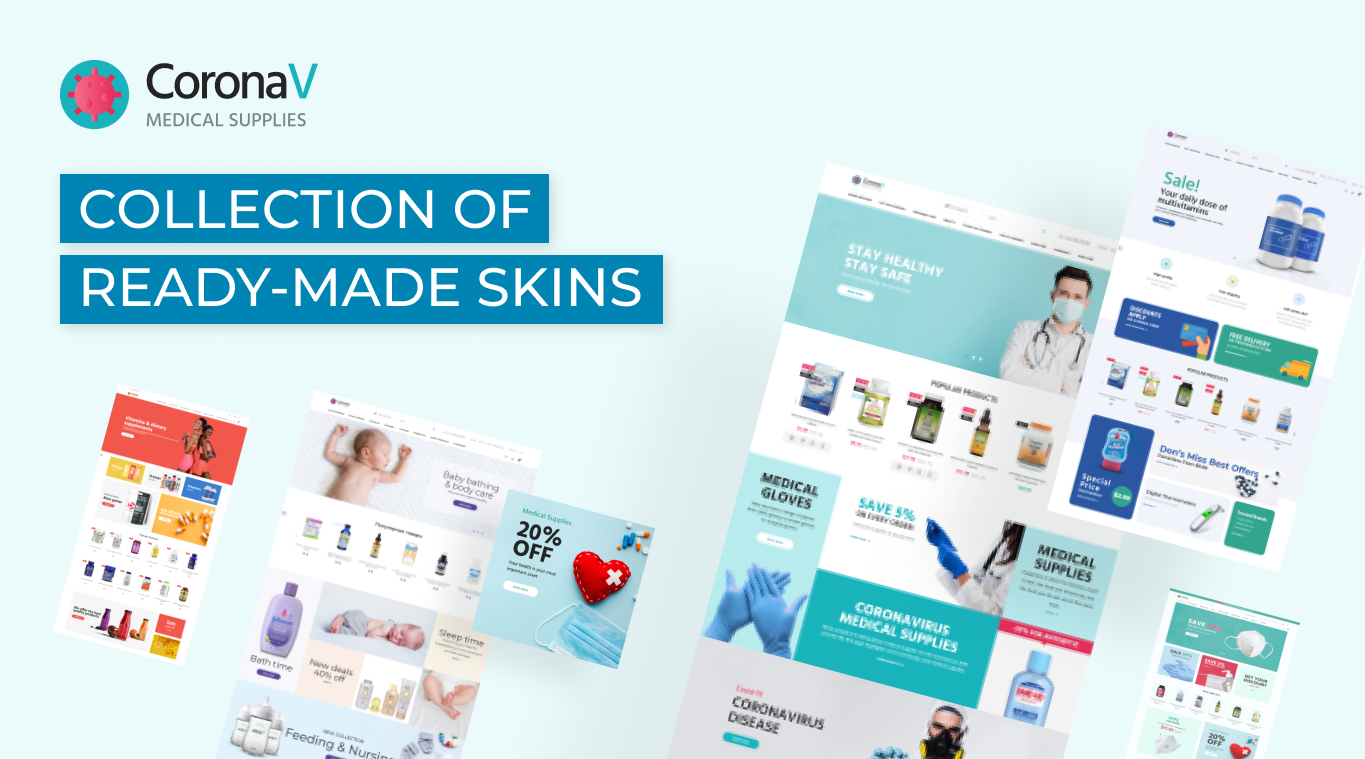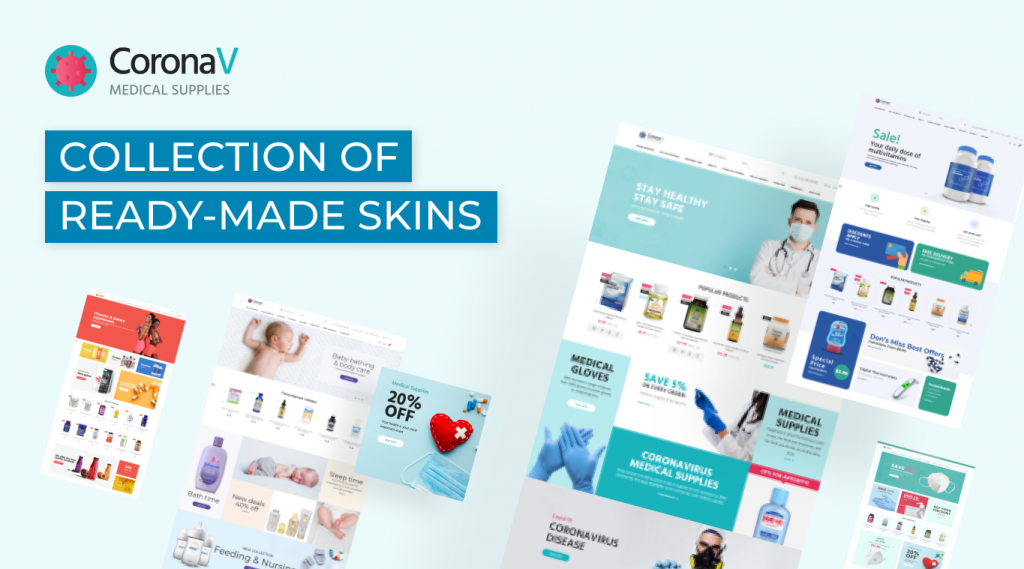 Now, we will get a closer look at them, and can always follow the links and explore them personally:
Responsive Medical Supplies eCommerce Template
Finally, the thing that any website can't live without, the thing that is a must-have for any user, the thing that called responsive design. And surely, that detail does matter and comes with the medical supplies eCommerce template CoronaV. For the customers, who are stuck in their houses and really need various medical products, it's extremely important to use a device they want and feel comfy with the website exploring. The adaptive online shop is the way to success for any type of business, as your company will make the visitors confident they're valuable. So, mobile phone, desktop, tablet – choose any gadget and rest assured the pages will look brilliant.